Brushing and flossing are equally essential in maintaining good oral hygiene. When you brush your teeth, you remove bacteria and food particles from your teeth and gums. However, brushing cannot remove all the food particles, and that's where flossing comes in. Flossing can remove the excess food particles stuck between your teeth and gums and prevent the buildup of tartar and plaque.
Many dental professionals recommend that you floss before brushing your teeth. Flossing removes the food particles stuck between your teeth, making it easier for the toothbrush to clean your teeth.
Create a Consistent Oral Hygiene Routine
Regardless of when you floss, it is essential to remember that you should do it daily. If you don't floss regularly, you may increase your risk of developing gum diseases, tooth decay, and bad breath.
Brushing your teeth twice a day with fluoride toothpaste and using a soft-bristled toothbrush helps remove plaque from the surface of your teeth, working in tandem with regular flossing.
In addition to your at-home care, don't forget the importance of professional cleanings and regular checkups with your dentist. Routine cleaning helps clear away built-up plaque and debris that accumulates and calcifies over time, even with regular brushing and flossing.
How to Make Flossing Fun for Kids
Additionally, teaching children to floss daily from an early age can help instill good oral hygiene practices that they can carry into adulthood. You can help your child enjoy their oral hygiene routine by:
Making it fun: Tooth brushing and flossing can be enjoyable for kids if you incorporate fun elements. Use colourful toothbrushes, sing songs, or play a tooth-brushing game to make it an enjoyable experience.
Leading by example: Children often mimic their parents' behaviour, so be a role model by practicing good oral hygiene yourself. Let them see you brush and floss regularly, emphasizing its importance.
Integrating oral care into their routine: Make brushing and flossing part of their daily routine, such as after breakfast and before bedtime. Consistency is key to developing long-lasting habits.
Preventing Gum Disease
Gum disease, also known as periodontal disease, affects a significant portion of the population. In fact, studies show that nearly 70% of Canadians will experience gum disease at some point in their lives. This statistic highlights the importance of being proactive in preventing and treating this condition.
Untreated gum disease can cause plaque to build up in the mouth along the gumline. As plaque hardens into tartar, it can cause more harmful bacteria to develop. The presence of these bacteria can trigger an inflammatory response in the gums, causing redness, swelling, and bleeding. Over time, this inflammation can lead to gum recession, tooth loss, and bone damage.
Prevention is key when it comes to gum disease—and flossing can help protect your oral health.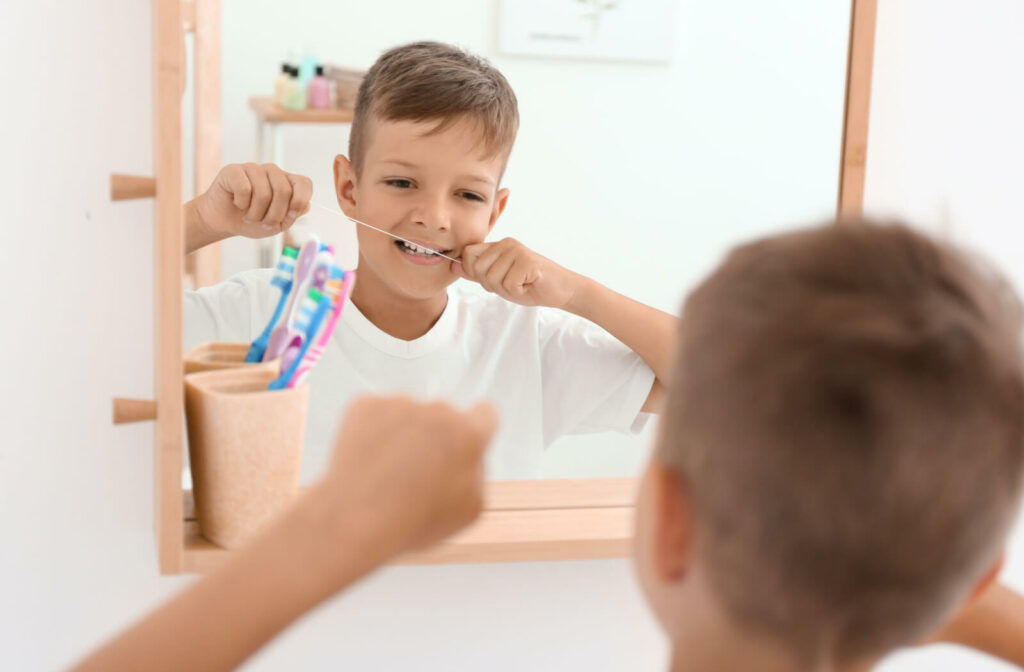 How to Choose the Right Floss
Finally, choosing the right floss can help keep your teeth clean. There are several types of floss, with one of the most common being nylon wax floss, which is made from nylon fibres and coated with a thin layer of wax. This combination of materials helps the floss glide smoothly between your teeth, making it easier to maneuver and less likely to shred or fray.
What Is a Water Flosser?
A water flosser, also known as an oral irrigator, is a handy device that can complement traditional flossing in your oral hygiene routine. This tool uses a stream of pulsating water to remove plaque, bacteria, and food debris from between your teeth and along the gumline.
A water flosser can reach areas that may be challenging to access with traditional floss. The pulsating water helps dislodge stubborn particles and flushes them away, promoting optimal gum health.
Another advantage of a water flosser is its versatility. Some models offer different tips for specific needs, such as orthodontic or periodontal care. Additionally, it can be an excellent alternative for individuals with dexterity issues.
While a water flosser is a fantastic addition to your oral care routine, it should not replace brushing or traditional flossing entirely. It is meant to complement these practices, providing an extra level of cleanliness and promoting gum health.