Teeth and bones are similar in many ways, but teeth are not bones.
Bones are made of living tissue that supports the body's structure and protects internal organs. Teeth are hard, calcified structures that serve the primary function of biting and chewing food. Bones are also able to repair and regenerate themselves, while teeth cannot. Teeth are also more susceptible to damage than bones.
Regular dental cleanings and visits to your dentist can help maintain the health of your teeth, but for bone issues, you should see your family doctor. Jaw bone issues may require a referral to an oral surgeon.
The Differences Between Teeth & Bones
Teeth and bones are made of different substances to serve different functions in the body.
Bones are made of collagen protein and calcium phosphate, while teeth consist of a combination of enamel, dentin, and cementum. Teeth are also composed of living tissue, such as nerves and blood vessels, which live in the pulp, while bones contain bone marrow for producing blood cells.
How Are Teeth & Bones Similar?
Although teeth and bones are not the same, they are similar in some ways. Both are considered hard tissues within the body, and both play crucial roles in our daily lives. Without teeth, we wouldn't be able to chew and digest food properly. Without bones, we couldn't stand, walk, or run.
How Strong Are Teeth?
When teeth are healthy, they are some of the strongest parts of your body.
Teeth are made of 3 layers, which enclose the pulpal tissue of the tooth, which can be considered the 4th layer:
Enamel is the outermost exposed layer and is the strongest substance in the human body, capable of withstanding up to 200 pounds of pressure.
The dentin layer, which lies beneath the enamel, is slightly softer but still strong enough to handle daily wear.
The cementum layer is the mineralized tissue layer covering the root of the tooth which sits inside the gum socket.
The pulp layer, which contains the nerves and blood vessels, is the softest and most sensitive layer of the tooth.
While teeth are incredibly strong, they are not indestructible. Poor oral hygiene, acidic foods and beverages, and bruxism (teeth grinding) can weaken teeth over time. Furthermore, if a tooth is already weakened by decay or trauma, it may not be able to handle as much pressure and can fracture or break.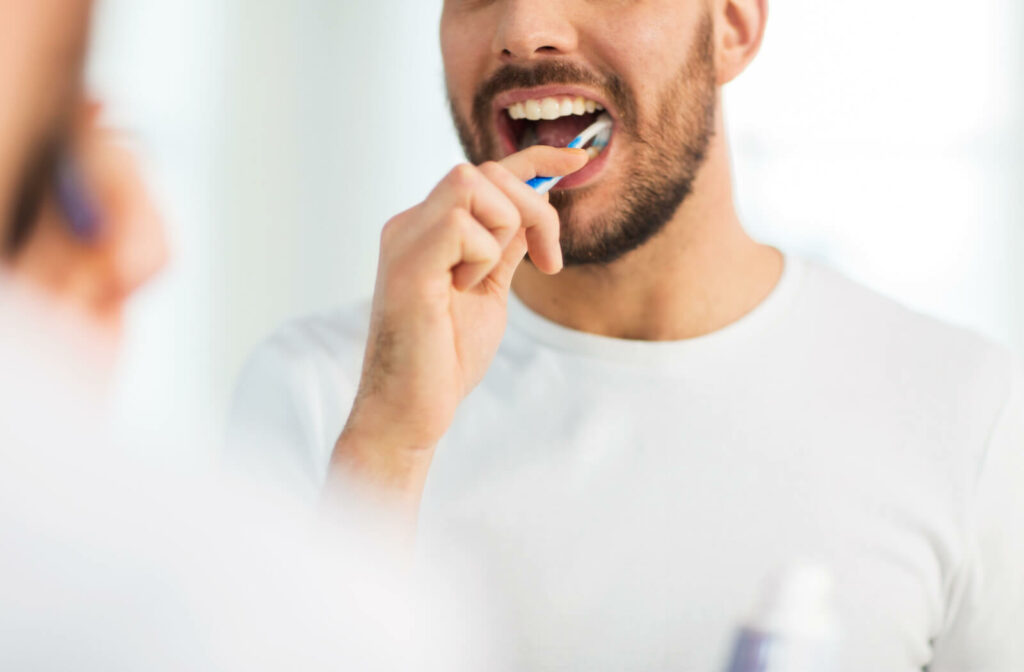 How Can You Maintain the Strength of Your Teeth?
Some of the best ways to keep your teeth healthy and strong include the following:
Practice good daily oral hygiene. Brush your teeth twice a day and floss daily to remove plaque and food particles that can weaken your teeth over time.
Avoid excessively hard or sticky foods that can cause chips or cracks in your teeth.
Wear a mouthguard at night if you have bruxism and grind your teeth in your sleep.
See your dentist regularly for checkups and cleanings.
Another way to maintain the strength of your teeth is to eat a healthy, balanced diet.
Foods like dairy products, leafy greens, and lean proteins contain essential nutrients like calcium and phosphorus that are crucial for maintaining strong teeth and bones. Avoid sugary and acidic foods and beverages as much as possible, as they can erode the enamel of your teeth and weaken them over time.
Protect Your Teeth
Knowing the differences between teeth and bones can help you understand what kind of support your teeth need and how to care for them properly. Visiting your dentist regularly and practicing good oral hygiene are essential habits that can help maintain your oral health and protect your teeth.