Dental implants are a modern form of tooth replacement that have become increasingly popular in recent years. They can provide an effective, long-lasting solution for replacing lost or damaged teeth and restoring the functionality of your smile.
How Do Dental Implants Work?
Unlike traditional dentures or bridges, most dental implants are surgically implanted directly into the jawbone and provide a secure foundation for artificial teeth that look, feel, and function just like natural teeth.
Maintaining Your Implants
Proper maintenance can help ensure your dental implants remain in good condition. This includes brushing twice daily with a soft-bristled brush and flossing regularly to remove plaque buildup from around the implants.
You should also visit your dentist at least twice a year for routine checkups and cleanings, so any potential issues can be addressed before they become serious.
Overall, dental implants can be a great solution for anyone looking for a long-lasting tooth replacement that provides support for both function and aesthetics. With proper care, you can enjoy your new smile for many years.
What Are the Types of Dental Implants?
Dental implants come in a variety of shapes, sizes, and materials to suit different needs. No matter which type you choose, dental implants can offer numerous advantages to support your oral health and your smile.
For example, because they are surgically implanted, dental implants can help maintain the structure and integrity of your mouth by stimulating bone growth and preventing resorption (deterioration) over time.
Titanium Implants
One of the most common types of implant is the endosteal implant, which uses a titanium post that is surgically implanted into the jawbone. This type of implant is ideal for replacing single teeth and can also be used to support removable dentures or bridges.
Titanium is highly compatible with bone tissue, and titanium implants are specifically designed to integrate into your jawbone for added stability and strength. This can help create a strong bond between the post and your jawbone to support normal chewing and biting functionality.
Metal Frames
Subperiosteal implants are another option for tooth replacement. These implants consist of a metal frame that is placed below the gum line, allowing it to sit on top of the jawbone without actually being secured inside it. Subperiosteal implants can be helpful for those who have weakened jawbones that may not be able to support endosteal implants.
Mini Implants
Mini dental implants are becoming increasingly popular as a less-invasive alternative to traditional implants. These tiny titanium posts are about half the size of regular implants and typically require only a minor procedure for placement.
Mini dental implants work similarly to traditional implants—they act as an anchor point for artificial teeth—but because they don't require a surgical procedure, they can typically be completed in just one visit!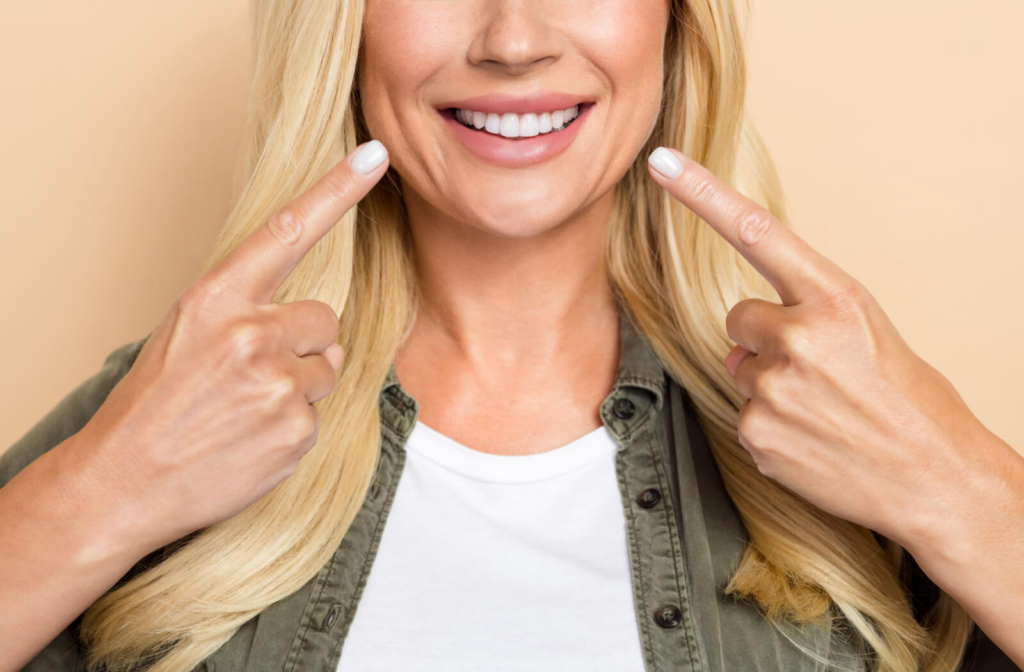 Why Would Someone Need a Dental Implant?
Someone may require a dental implant if they have lost or damaged teeth and want to restore the functionality and appearance of their smile.
When a person has lost or damaged teeth, it can have far-reaching effects on their overall health and well-being. Missing teeth can cause changes in the alignment of the jaw joint and muscles, leading to discomfort when speaking, chewing, or yawning. The absence of teeth can also cause bone loss in the jaw, which can lead to facial features sinking inwards.
It is also important to note that missing teeth can make it more difficult for a person to eat certain hard or chewy foods, potentially impacting their nutrient intake if left untreated.
Replacing missing teeth is important not only for cosmetic reasons but also for maintaining oral health and preventing other serious medical conditions.
What Should I Do if I Have Missing Teeth?
If you have missing or damaged teeth, you should visit your dentist for an examination. Your dentist can assess the health of your teeth and gums and help you determine the best path forward for restoring the function and appearance of your teeth.To help prevent damage and tooth loss, you can practice good oral hygiene, like brushing and flossing regularly and attending your routine dental cleanings.