Flossing is an integral part of your home dental hygiene routine. It helps keep your teeth clean and your gums healthy, and is easy to fit into your daily routine. You should floss at least once per day, or as often as necessary to keep the gaps between your teeth clean and free of food.
Flossing Removes Plaque
Flossing removes plaque from between your teeth, getting into those hard to reach places that you can't get to using your toothbrush. A full one-third of the surface of your teeth is missed if you clean your teeth using brushing alone. Plaque is an invisible film of bacteria that forms on your teeth, and according to the Canadian Dental Association is the leading cause of gum disease.
It is important to remove plaque in a timely manner. Plaque that is left on your teeth for more than 24 hours hardens into tartar, which can only be removed by professionals using specialized dental tools.
Gum Diseases and Issues
A buildup of plaque and tartar can cause a large array of gum diseases and other dental problems. The Canadian Dental Association estimates that seven out of every ten Canadians will develop gum disease during their lifetimes. Gum disease is one of the most common dental problems, and in its early stages it is painless. As it progresses tiny pockets of infection can form in your gums, until eventually the infection destroys your gum tissue. If your gum tissue becomes too damaged it can result in tooth loss.
Prevention is key. Floss at least once every twenty-four hours, and brushing at least twice per day or after meals.
Proper Flossing Technique
It is important to floss using the proper flossing technique. This ensures that all of the plaque is removed, and is integral to keeping your gums and teeth healthy.
How to Floss
Take a length of floss equal to the distance between your hand and your shoulder
Wrap the floss around your middle and index fingers, leaving a two-inch length between them.
Slide the floss between your teeth and wrap it around the base of your tooth so that it forms a "C" shape.
Gently move the floss so it is slightly below your gum line and wipe the tooth from base to tip two or three times.
Repeat steps 3 and 4 for both sides of each tooth. Don't forget to get between your back molars. As the floss wears shift your grip so that you expose a new section of floss.
Brush your teeth when you are done flossing. This is more effective than brushing your teeth before.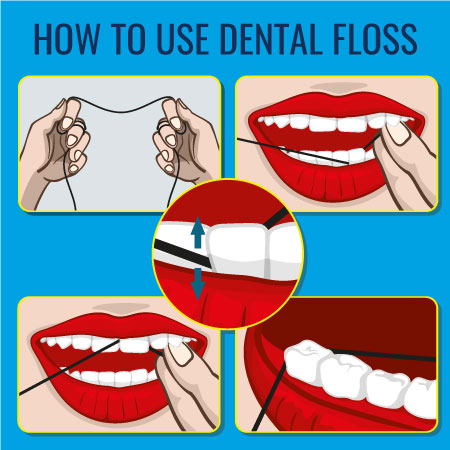 Note: When you first begin to floss your gums will likely bleed. However, the bleeding should stop after a few days of flossing. If the bleeding does not stop you should make an appointment to see your dentist.