Wisdom tooth extraction may not be as daunting as you think. While it may not be at the top of the list of things you want to do, it is important and can save you a lot of pain later on.
One of the most common questions we hear is "how long will a wisdom tooth extraction take?"
That depends.
We're going to unpack roughly how long a wisdom tooth extraction will take.
What Are Wisdom Teeth?
Your wisdom teeth are the molars at the very back of your mouth, and there's not a lot of room back there. Wisdom teeth are listed as one of the 10 common causes of toothaches, which is why it's important to keep up with regular checkups.
Why do I Need My Wisdom Teeth Removed?
Whether or not you need your wisdom teeth removed depends on a few factors: your teeth, their direction, and the space left in your mouth.
Your wisdom teeth, or third molars, are the last to come in, and typically make their appearance between ages 17-25. Sometimes they will come in sooner, later, or even not at all.
You might experience discomfort as they erupt from your gums and push against your other teeth.
The good thing is, we don't need our wisdom teeth. And, we can remove them through a routine extraction.
Misaligned, partially erupted, and otherwise impacted wisdom teeth can lead to crooked teeth, infections, and cysts. Your dentist will be able to determine when and if your wisdom teeth need to be removed.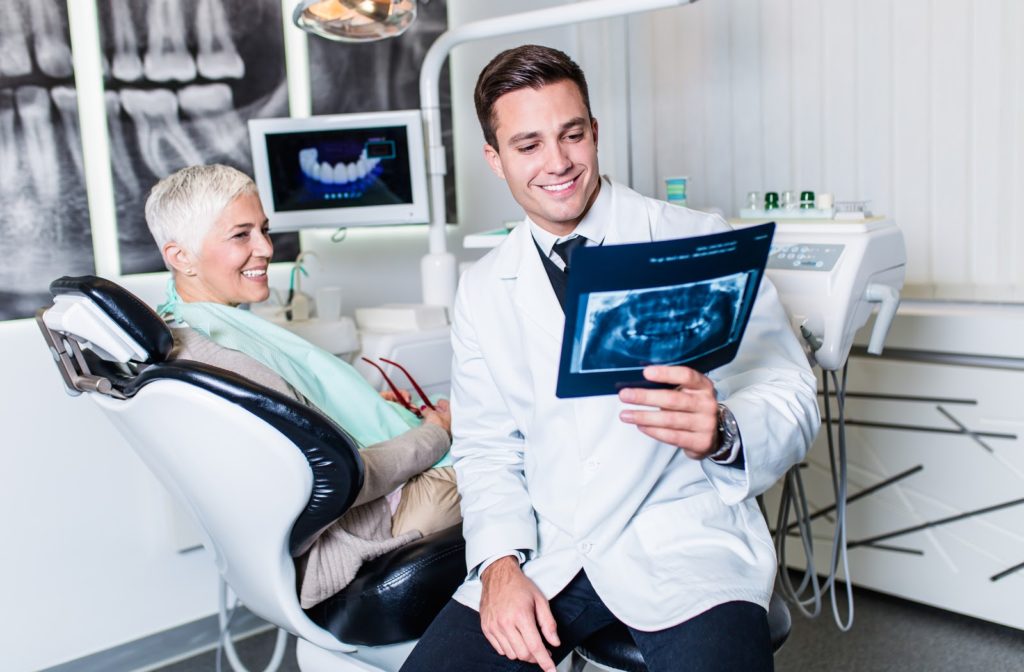 What to Expect
How long your wisdom tooth extraction takes depends on several variables. A routine procedure can take around 45 minutes. More complicated procedures can take longer.
The Removal Process
Your comfort during the process is very important. Your dentist will go over all of the details before removing your wisdom teeth. Wisdom tooth extraction is a standard procedure, and your dentist will work to make sure it is as comfortable as possible.
Ignoring your wisdom teeth can be more painful than the process of removing them.
Issues with wisdom teeth include:
Headaches
Jaw aches
Cavities
Swelling
Infection
Bad breath
Trapped food
Some Anesthetic Extends Your Time
Not everyone needs to "go under" to have their wisdom teeth removed. Most people only require a local anesthetic to numb the area, which minimizes your procedure time.
For some extractions, and for those with high anxiety, your dentist might recommend sedation. Any type of sedation is likely to extend the amount of time your extraction takes due to set up time, waiting for the sedation to take full effect, and recovery time.
Different practices offer different types of sedation. At Sunshine Dental, we offer 3 types.
Nitrous Oxide Sedation
Also called "laughing gas," nitrous oxide is a mild form of sedation and aims to relax you during your extraction. Your dentist will administer nitrous oxide right before your procedure, and it will wear off relatively quickly after.
Oral Sedation
This type of sedation puts you in a highly relaxed state. You will be instructed to take your oral sedation an hour before your appointment. You will not be able to drive to and from your surgery appointment, and will need to have someone drive you there and back home. Although this doesn't extend the amount of time the extraction takes, it does extend your downtime.
IV Sedation
We will provide nitrous oxide to help you relax before administering IV sedation. This type of sedation allows you to remain awake and follow basic instructions, although most patients don't remember much after the extraction. The time it takes to administer IV sedation will increase your procedure time and your downtime. If you choose to go with IV sedation, you will also not be able to drive to and from your surgery appointment, and will need to have someone drive there and back home.
If you're interested in sedation dentistry, let us know and we will go over the options with you before your extraction.
Post-Surgery Recovery Time
Take Time for Rest & Recovery
Not everyone walks out of the operating chair and back into their office chair. It's important to follow your dentist's recommendations and take it easy if you need to.
Typically, your recovery time should only take a few days.
Tips to Help Speed up Recovery
Be careful not to bite the inside of your mouth while you're still numb. You may be instructed to periodically bite down on a gauze pad to help reduce and stop the bleeding.
Prop your head up and avoid lying flat, which can prolong bleeding.
For the first 24 hours, intermittently apply an ice pack to the outside of your face to help reduce swelling. Use moist heat, like a wrung-out washcloth, for 2-3 days afterwards.
Start with eating soft foods like pudding and luke-warm soup, and progress to solid foods as you heal. Avoid hot temperature foods for a few days to reduce the chance of loosening or dissolving the clot that has formed inside the extraction socket, as this clot helps with the healing as well as with controlling the pain after the extraction.
Don't suck on a straw and avoid smoking for a few days as it can loosen the blood clot and delay healing.
Gently rinse your mouth with warm saltwater, beginning 24 hours after surgery, as this will help reduce any swelling.
Avoid touching and disturbing the area with your tongue or fingers.
Brush your teeth and tongue carefully.
Special Circumstances & Complications
Sometimes, we get unlucky and recovery takes longer than anticipated. Pain and swelling are normal and may last longer for some people, especially if the procedure included multiple extractions at once, or if there were complications.
Contact your dentist if you have continued uncontrolled bleeding, bleeding that lasts more than 24 hours, or if you have numbness in your mouth or lips after the local anesthetic wears off.
A small percentage of people may develop what's called a "dry socket". This is when the blood clot does not form properly in the extraction site, thus resulting in a prolonged dull ache. In this case, your dentist can get you back to the clinic to place a sedative dressing in the extraction site to help relieve the pain and reduce the chances of infection in the area.
Everyone Heals Differently
Remember to give your body the time it needs to heal. Sometimes recovery can take as little as a few days, and other times it can take a week or more. If you feel like your recovery is taking longer than it should, come back to see us. We want you back to your normal self as quickly as possible.