Wisdom teeth, or third molars, can cause discomfort, pain, and tooth decay in some cases. That's why dentists may recommend extracting them.
How long a wisdom tooth extraction takes depends on several factors, including the complexity of your extraction, how the teeth are situated in your mouth, your anatomy, and more.
Your dentist can give you an idea of how long the procedure may take and give you specific aftercare instructions to help with your recovery.
Why Do Dentists Remove Wisdom Teeth?
Wisdom teeth are the last set of molars to emerge in our early adulthood years. Unfortunately, these teeth sometimes don't have enough space to grow properly and removing them can help restore your comfort and reduce overcrowding in the mouth.
Your dentist may recommend extracting your wisdom teeth to prevent oral health problems.
How Long Does it Take to Remove Wisdom Teeth?
The duration of a wisdom tooth extraction procedure depends on several factors, including the tooth's position, the patient's anatomy, and the complexity of the extraction.
Simple extractions, where the tooth is visible above the gum line, may take less time and can be performed under local anesthesia. However, if the tooth is impacted and requires a more complex extraction, it could take longer. Complex procedures may also require anesthesia that puts you to sleep, which may result in a longer recovery time.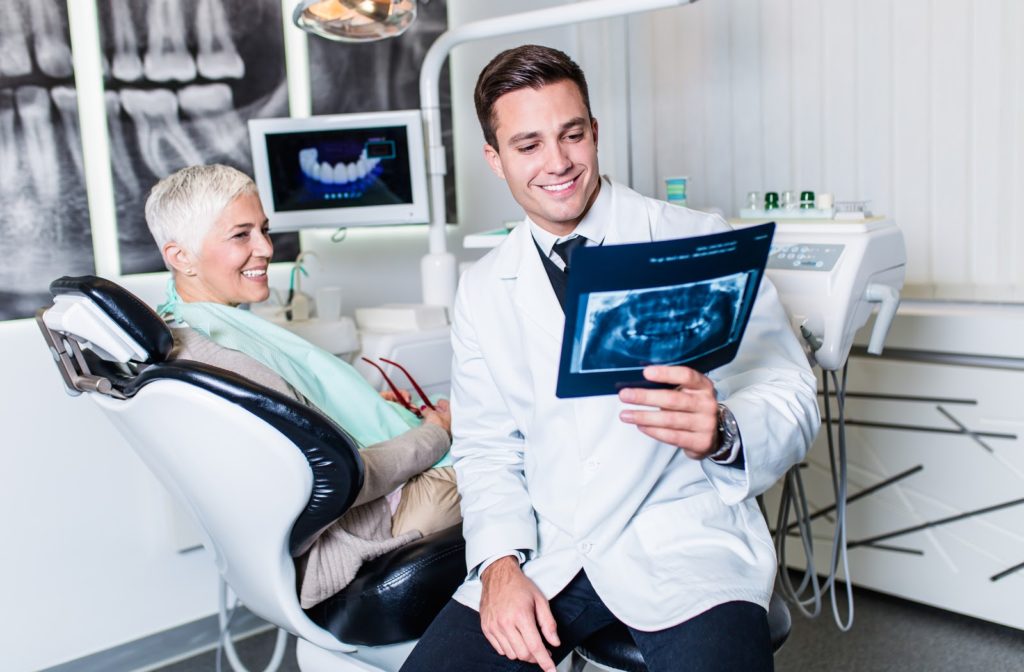 What Can You Expect After a Wisdom Tooth Extraction?
You may need to take some time off from work or school and avoid strenuous activities after the procedure while your body heals. Your dentist may recommend you drink plenty of fluids and take pain medication or antibiotics as directed.
Recovering After Oral Surgery: Take the Time You Need
After undergoing a dental procedure, it's important to prioritize rest and recovery. It's not always a quick transition from the operating chair to your office chair. Make sure to follow your dentist's recommendations and take it easy if necessary.
Here are some helpful tips that can speed up the healing process:
Be cautious not to bite the inside of your mouth while still experiencing numbness.
Prop up your head and avoid lying flat, as this can help prevent prolonged bleeding.
Apply an ice pack to the outside of your face intermittently during the first 24 hours to minimize swelling.
Begin with a soft food diet, including items like pudding and lukewarm soup, and gradually introduce solid foods as your healing progresses. To avoid complications, steer clear of hot temperature foods for a few days, as they may disturb the clot that has formed inside the extraction socket. This clot can help with healing and pain control.
Refrain from using straws and avoid smoking, as they may dislodge the blood clot and delay the healing process.
Rinse your mouth gently with warm salt water starting 24 hours after surgery to help reduce swelling.
Avoid touching or disturbing the affected area with your tongue or fingers.
When brushing your teeth and tongue, be extra careful and gentle.
Remember, each person's recovery timeline may vary. Listen to your body, follow your dentist's instructions, and allow yourself the necessary time to heal properly.
When Should You See a Dentist for Tooth Pain?
If you're experiencing tooth pain or discomfort, it's always a good idea to see a dentist as soon as possible to diagnose the problem and prevent further issues.
When it comes to wisdom teeth, the signs that you may need to see a dentist can include:
Throbbing pain in the back of your mouth
Swelling or redness around the gums
Difficulty opening your mouth to its fullest position
A bad taste or odor in your mouth
These symptoms can indicate that your wisdom teeth are impacted, infected, or decaying and require quick attention from your dentist.
Regular Dental Checkups Can Prevent Tooth Issues
Wisdom teeth extractions are common procedures that help prevent oral health problems and discomfort. The duration of the procedure depends on various factors and depends on the complexity of the extraction and your body's healing process. If you experience tooth pain or discomfort, don't hesitate to see a dentist who can diagnose the problem and recommend treatment. Taking care of your oral health is important for your overall well-being, and regular dental checkups can help you prevent issues down the line.