Do you have a toothache that just won't go away? Or are you experiencing painful or swollen gums around a specific tooth? Well, these may be signs that you need a root canal.
But what exactly is a root canal?
A root canal is a highly effective treatment that can save your natural tooth and its supporting tissues after it has become inflamed or infected.
Don't let your symptoms affect your life any longer! Book an appointment and talk to your dentist about whether that toothache or soreness you've been experiencing may be due to a root canal issue.
What is a Root Canal?
A root canal is a dental procedure needed when the pulp in your tooth has become inflamed, infected, or damaged.
The pulp consists of nerves, tissue, and blood vessels needed to keep your teeth vital and healthy. There are several reasons the pulp in your tooth can become damaged, including:
Deep decay due to an untreated cavity
Multiple dental procedures on the same tooth
A chip, crack, or injury to your tooth
During a root canal, your dentist will remove the damaged pulp to protect the structure of your natural tooth. This will in turn help reduce any symptoms you may be experiencing.
How Do You Know if You Need a Root Canal?
Here are just a few common signs and symptoms of teeth that may require root canal treatment:
Slight to severe pain while chewing or biting
Pimples or sores around your gums
A chipped or cracked tooth
Sensitivity to hot or cold
Swollen or tender gums
Deep decay or discoloration and darkening of the affected tooth
At Sunshine Dental, we can help you find a solution to these symptoms. During a dental exam, your dentist can examine your teeth, determine if further treatment is needed, and create a customized treatment plan to find the best solution for you.
What Happens During a Root Canal?
If your dentist determines that you need a root canal, they will go over every step of the procedure with you in detail to prepare you before your appointment.
A typical procedure follows the following general steps:
First, your dentist will place a small amount of numbing medication on your gum near the treatment area. Once it has taken effect, they can deliver a local anesthetic into your gums to keep you from feeling pain during the procedure.
When your tooth is numb, your dentist will remove the damaged pulp and clean out any canals in your tooth.
Once the pulp has been removed, the dentist may coat the area with a topical antibiotic to promote healing and prevent reinfection. Once the canals are cleaned and disinfected, the dentist will fill and seal your tooth with a filling, usually followed by an eventual crown over the tooth to further protect it from fracturing.
What to Expect After Your Root Canal Treatment
The root canal procedure is quick, efficient, and effective. You should be able to resume your regular routine after the procedure, but there are a few steps you can take to promote healing after your treatment.
To help your mouth heal properly after your procedure, we recommend that you:
Avoid chewing on the affected tooth for a short time until it settles down
Avoid any hard or sticky foods
Reduce acidic and sugary foods and drinks
Book a follow-up appointment with your dentist
How to Prevent Future Dental Issues
A root canal is considered a restorative procedure, meaning that most people who undergo the procedure can enjoy benefits for the rest of their lives. Still, how long your results last depends on how well you take care of your teeth.
Just as the rest of your teeth depend on good dental hygiene habits, your newly restored tooth also requires regular care. To prevent future dental issues, you should always: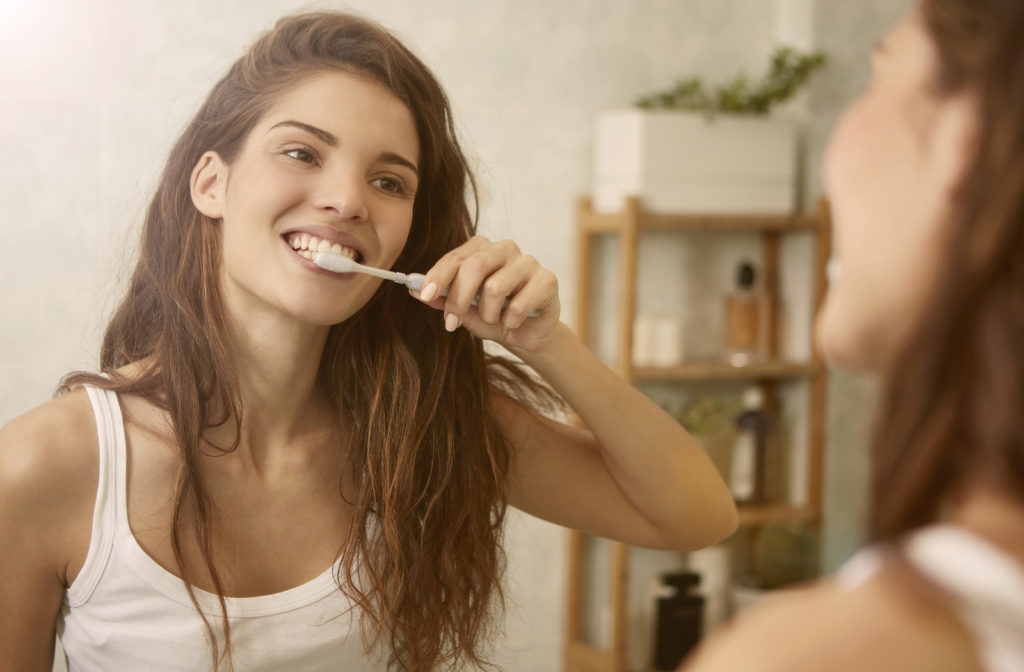 Maintain a Regular Hygiene Schedule
To keep your mouth healthy, you should always brush twice daily and floss at least once a day. Doing so prevents cavities, bad breath, and can help reduce tooth-damaging bacteria.
Avoid Dental Injuries
If you play sports or grind your teeth, you can avoid causing injury to your mouth by wearing the appropriate type of protective mouthguard that is made professionally by your dentist.
Be Mindful of What You Eat
Talk to your dentist about which foods you should avoid. Eating hard or acidic foods can break down or damage your teeth. Of course, you can help avoid some of the damaging effects from these foods by following good oral hygiene habits on a daily basis at home.
Visit Your Dentist Regularly
An important part of taking care of your teeth is to see your dentist regularly. During a regular dental checkup and cleaning, your dentist can identify any issues early and help you get the treatment you need to minimize further invasive procedures.
Following these preventative measures can keep your teeth healthy and functioning optimally.
For more information on root canal treatments, contact us at Sunshine Dental today!