Many Canadians are anxious about receiving dental work. Everyone needs proper dental care, so sedation dentistry exists to help anxious patients feel comfortable during dental procedures. Oral sedation can help people with mild to moderate dental anxiety so they can get their treatment done comfortably while staying relaxed at the dentist.
Continue reading to learn more about oral sedation and what you should expect during your appointment.
What is Sedation Dentistry?
Sedation dentistry is a way to help patients stay relaxed when they experience dental anxiety. Between 48 to 60% of Canadians have some form of dental anxiety. Some people have enough fear of the dentist that they may avoid treatment, which can be detrimental to their oral health.
If you have dental anxiety, sedation dentistry can help calm your nerves. This form of dentistry uses sedation to help your dentist complete your examination and treatment.
While you stay awake during sedation dentistry, you're less likely to feel anxious or scared. There are different levels of sedation, including:
Minimal sedation: You're awake but relaxed
Moderate sedation: You may have some reduced abilities & not remember parts of the treatment
Deep sedation: You're sedated but can still be woken up
General anesthesia: You're completely unconscious
If you're receiving oral sedation, what is it, and what level of sedation does it provide?
What is Oral Sedation?
Oral sedation takes effect after ingesting a pill approximately an hour before your procedure. The strength of the sedative depends on several factors such as your size and weight, and the type of treatment that needs to be performed. Oral sedation can vary from minimal to moderate sedation.
For minimal sedation, you'll receive a lower dose pill designed to make you feel drowsy and relaxed without losing consciousness. You take a larger dose for moderate sedation, which is most common for sedation dentistry. You may be groggy enough to fall asleep during your procedure, but your dentist can wake you with a gentle shake.
When is Oral Sedation Used?
Oral and other forms of sedation are best for people experiencing legitimate fear or anxiety of seeing the dentist and having dental procedures performed on them.
Sedation dentistry can be beneficial for people who have the following:
Low pain tolerance
Sensitive teeth that are difficult to "freeze" with local anesthesia
Bad gag reflex
Difficulty sitting still in a dentist's chair
Large amounts of dental work to complete
If you feel you may need sedation at the dentist but aren't interested in taking a pill, what other forms of sedative are available?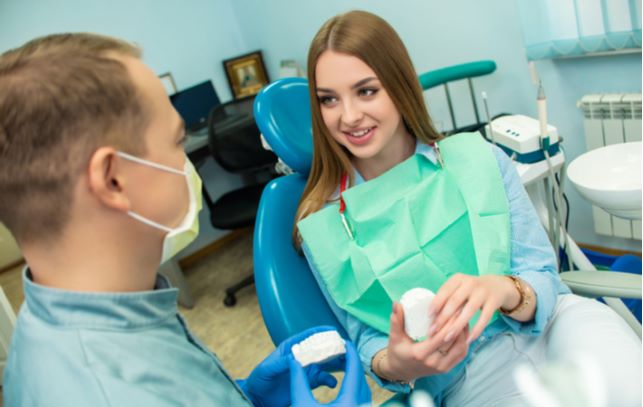 What Other Kinds of Sedation Exist?
There are several types of sedation available. These forms of sedation include:
Inhaled minimal sedation
Deep sedation
Is Sedation Safe?
Both oral and other forms of sedation are very safe. Your dentist will assess your eligibility before recommending any form of sedation.
They will go over your medical history with you and have a detailed conversation about any associated risks of oral sedation. Your dentist will also explain some of the potential short-term side effects you may experience.
Side Effects
There are several potential side effects of oral sedation. Relatively short term, these effects may last from few hours or up-to one day after the procedure.
You may experience:
Drowsiness
Loss of memory regarding your treatment
Slow reflexes
Heaviness or sluggishness
Low blood pressure
Headache
If you need oral sedation, what should you expect?
What Should You Expect During Oral Sedation?
Before the Procedure
Before your procedure, you'll receive a sedative by ingesting a pill. It may take up to an hour for effects to begin as the sedative gets absorbed. After sedation takes effect, your dentist will monitor you to ensure your breathing and blood pressure stays consistent and in the same and normal range.
During the Procedure
Sedation can affect each person differently, but most people feel drowsy or relaxed throughout their procedure. Negative feelings, such as anxiety and stress, fade away after sedation takes effect.
You may feel a tingling sensation in your arms, legs, hands, and feet when under oral sedation. This tingling feeling may present alongside heaviness in your limbs, making them feel very relaxed.
Recovery
Recovery from oral sedation is usually fast, but some effects may linger for the rest of your day. Your dentist will make sure your heart rate, breathing, and blood pressure are normal before allowing you to go home.
You will need to have a friend or family member ready to drive you home at the end of your appointment. You may experience drowsiness or nausea, have a headache or feel sluggish for the rest of the day. Avoid working or intense physical activity until your side effects wear off.
Knowing how oral sedation can affect you is important if you struggle with dental anxiety or fear. Bring up any questions you may have with your dentist; they can address your concerns and help you decide if sedation dentistry is the right choice for you.
Don't Neglect Your Oral Health
Regular dental care is vital for your oral health. If the thought of dental work leaves you anxious, you don't need to avoid receiving comprehensive dental care; sedation dentistry can help you stay relaxed throughout your treatment so you can continue to maintain a healthy smile into the future.
If you're interested in sedation dentistry, contact your local dentist.