Dealing with missing or damaged teeth can be a frustrating and painful experience. One of the solutions to this problem is to receive dental implants. These implants are a common and effective way to replace missing roots in your gums and jawbone, and will help during the process of attaching artificial teeth.
Receiving a comprehensive dental exam is the first step to determining if dental implants can work for you — don't hesitate to contact Sunshine Dental and book an appointment, we're always happy to answer any of your questions or concerns.
What Are Dental Implants?
Dental implants are artificial roots made of titanium metal that act as anchors for a replacement tooth. Dental implants are designed to be inserted into the jawbone so they can replace the root of a natural tooth.
The Dental Implant Procedure
To start, your dentist will use x-rays of your head, jaw, and teeth to examine your mouth and determine if you are a candidate for dental implants.
After it is determined that you can receive dental implants, your surgery will typically involve two stages:
Your dentist or specialist will insert a dental implant into your jawbone beneath your gum tissue. Your gum tissue will then be stitched back into place. As your gum tissue heals, the implant will start bonding with the bone that is attached to your gums. This bonding process can take a couple of months to heal completely.
Once your gum tissue has healed, your dentist or specialist will attach an abutment to the implant. This abutment is like a connector, which will be used to connect an artificial tooth to the implant in your jawbone.
Once your surgery has been completed, your dentist or specialist will attach a replacement tooth to the abutment. This process may take several different appointments to ensure the proper fit of your new tooth.
If you require dental implants to replace several teeth, a fixed bridge may also be used, which would be anchored to several of your dental implants. A dental bridge is designed to replace one or more missing teeth by extending over the entirety of an area with no natural teeth.
How to Prepare for Dental Implants
When considering receiving dental implants, you may be required to consult with a few different specialists, including:
An oral and maxillofacial surgeon who specializes in surgeries of the mouth, jaw, and face.
A periodontist who specializes in treating structures that support teeth (like gums and bones).
A prosthodontist who designs and fits artificial teeth.
Dental implant procedures will also involve thorough evaluations of your mouth and teeth beforehand, and will require the following before receiving surgery:
Before your implant procedure, your dentist or specialist will discuss with you your options for anesthesia and will instruct what you can eat and drink before your appointment.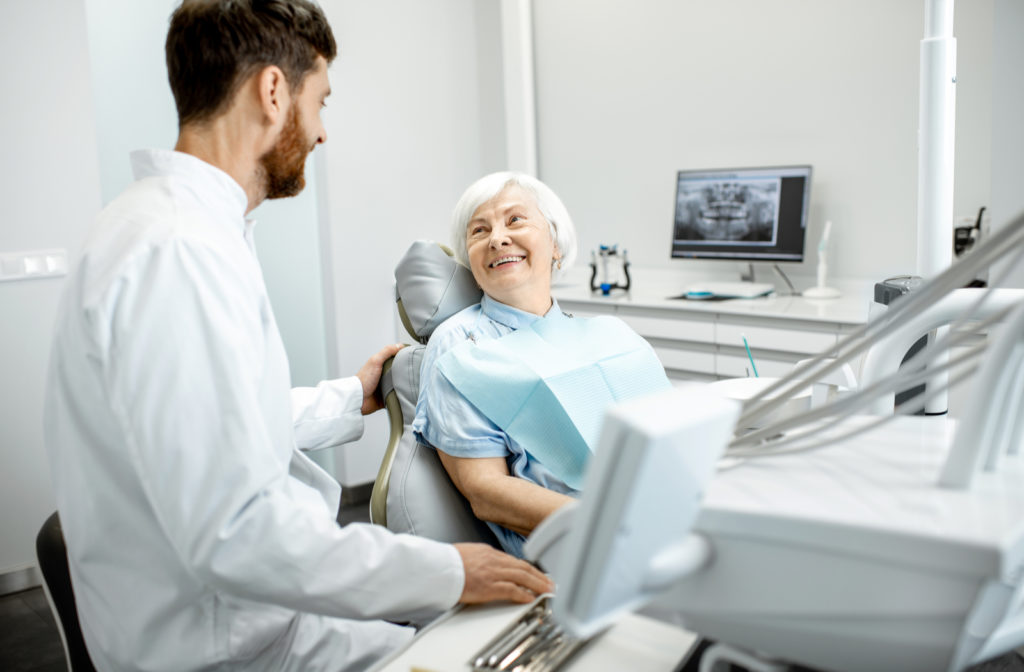 How to Determine if You Need Dental Implants
Dental implants can be safe and effective if you are in good general health, have healthy gums, and have enough bone in your jaw to hold an implant. If your jawbone is too thin or has not developed normally, you may have to receive a bone graft to enhance the integrity of your jaw so that implants can be inserted safely.
Dental implants can be an effective solution for you if you:
Have one or more missing teeth
Have a jawbone that has developed normally and reached full growth
Have stable enough bone to secure the implants, or be able to receive a bone graft
Have healthy oral tissues
Don't have health conditions that will affect your jawbone healing
Are unable or unwilling to wear dentures
Want to improve your speech caused by the bulkiness of your existing dentures
Are willing to commit several months to the process
Don't smoke tobacco
The First Step is Always a Dental Exam
If you think you are a candidate for receiving dental implants and are currently dealing with missing or damaged teeth, it is important to seek out a consultation with your dentist or a dental specialist before deciding which dental procedure is right for you. The simplest and most effective way to receive this information is to get a comprehensive dental exam.
In the case of missing or damaged teeth, your dentist will want to take x-rays and may use 3D imaging to determine if dental implants are the most appropriate solution for your dental needs. These processes will be performed before an implant procedure is considered, and will help both you and your dentist understand the current overall condition of your mouth to help plan out the right treatment for you.
If you have any questions or concerns, please feel free to contact Sunshine Dental.