Most of us know what to do in an emergency. If you hurt yourself badly enough, you know it's important to seek immediate medical care. But what happens if the emergency you're experiencing is an injury to your mouth?
Dental emergencies can happen when you least expect them, and it's important to know what to do.
If you're having a dental emergency, we're here to help! Your first step should always be to call your dentist. Receiving emergency dental care can help relieve your pain and prevent further damage to your teeth.
In this post, we'll go over how to tell if you're having a dental emergency and what you should do if you need help.
When to Seek Emergency Care
You're probably used to seeing your dentist twice a year for your regular check-up and cleaning. But if you experience any of the following symptoms, you should seek medical care immediately, no matter when you last saw your dentist:
Swelling in your mouth
Chipped, broken, or knocked-out teeth
A lost crown or filling
Trauma to your cheeks, jaws, or lips
Loose teeth
Bleeding or aching gums
Severe toothache
Numbness in teeth
Why Is it Important to See an Emergency Dentist Right Away?
Like any emergency, the faster you get treatment, the better your outcome will be. If you're having a dental emergency, immediate dental care can:
Increase the chances of saving your teeth
Help you avoid having to deal with unnecessary pain
Reduce the risk of infection
Prevent further damage to your teeth & oral tissues
Common Dental Emergencies & What to Do
It's important to be aware of what type of dental emergencies you may face. Here are just some of the most common dental emergencies we treat at Sunshine Dental, and what to do if you experience them. Please note that if you notice moderate to severe swelling or pain, difficulty breathing and/or tightening of the airways, please call 911 or go to the nearest Emergency Room to be assessed. Often, most major hospitals have dental staff on call that can immediately assist in related dental emergencies.
Toothache
If you have a severe toothache that doesn't seem to be going away, you should call your dentist and explain your symptoms to them. Your dentist can guide you through your next steps and get you an appointment so you can be seen as soon as possible.
While you wait to be seen by a dentist, you can take over-the-counter pain medication to lessen your pain, or ice your face near the sore tooth if you notice any swelling in the cheek area.
If you have a toothache, it's important to avoid using heat on the affected area, even if it brings you relief from pain.
Chipped or Broken Tooth
If you have a chipped or broken tooth, you should know that they can typically be saved if you get the care you need right away. If you think you have a damaged tooth, call your dentist and explain what happened.
If you have a minor break, your dentist may treat it by simply filling the tooth. If the break is more serious, your dentist may need to use a crown or perform a root canal treatment.
Knocked out tooth
A knocked-out tooth is a serious injury that needs immediate care if it's to be fixed. If the tooth is put back in place within 10 minutes, it has a good chance of taking root again. After 2 hours, the chances of your tooth taking root significantly decreases.
If your tooth has been knocked out, first check to see if the tooth is clean. If it is, you can put it back in its place until you get to your dentist. If you can't, put the tooth in a container of cold milk and call your dentist right away so you can be seen quickly in order to try and save the tooth by re-implanting it back in it's socket. Never attempt to rub or clean off any tissue from the root surface of the knocked out tooth, as this tissue is required to be intact for re-implantation.
Lost or Loose Filling
If you have any fillings, you should know that you need to see your dentist right away if a filling becomes loose or falls out. If this happens, call your dentist and book an appointment as soon as possible.
Trauma to the Lip or Tongue
If you bite your lip or tongue badly enough, your dentist can help.
To stop the bleeding until you get to your dentist, use a clean cloth and press down on the part of the mouth that is bleeding. If your lip or face is swelling, you can use an ice pack to keep the swelling down.
Objects Stuck in Your Teeth
If there's an object stuck in your teeth and you can't get it out, call your dentist and let them know what you're experiencing.
When trying to remove an object, do so carefully! Never use any sharp tools as they can damage the surrounding gums and teeth, causing more issues down the road.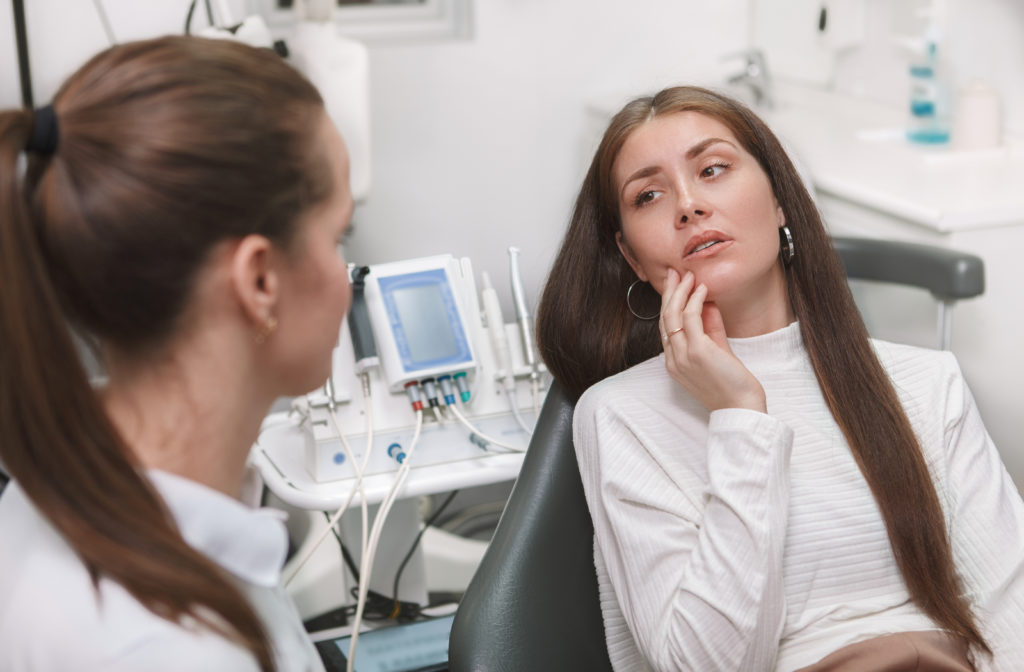 How to Prevent Dental Emergencies
While you have little control over what type of emergencies you may experience, and when they can happen to you, there are a few things you could do to reduce the chances of such dental emergencies happening:
Use a mouthguard when playing contact sports
Avoid overly sugary & tough foods
Maintain a proper dental hygiene routine
Visit your dentist regularly for check-ups & cleanings
We're Here for You
At Sunshine Dental, we're here for you if you need emergency dental care.
From a broken tooth to a lost filling, our dentists can help maintain and protect your teeth! If you need help, please give us a call. If our office is closed, please call our after-hours emergency line which is stated at the end of our answering machine message, or visit your nearest emergency clinic or hospital.