If it's your first time walking through our doors, your initial dental exam and cleaning will look a bit different than what you can expect going forward.
At Sunshine Dental, we focus on patient experience and providing individualized family dentistry, which is why we'll take a few extra steps during your first exam so we have the chance to learn more about you and your unique needs.
But what exactly is different about a new patient dental exam? Keep reading to learn more about what to expect when you visit a new dentist's office, how to properly care for your teeth in between visits, and how often you should see your dentist.
What is a Dental Exam?
A dental exam is a comprehensive checkup of your teeth, gums, and mouth performed by a dentist. A dental exam is typically done in conjunction with a teeth cleaning, also referred to as a dental hygiene treatment, which is performed by a dental hygienist.
During a dental exam, your dentist will check your mouth for any signs of gum disease, tooth decay, or other dental and medical conditions that may be related. This can help your dentist notice signs of damage and get you the quick treatment you need to sustain a happy and healthy smile.
Together, a dental exam and cleaning help your dedicated healthcare professionals care for your teeth and gums, before any issues have the chance to affect your dental health.
Why Do I Need to See a Dentist?
Regular dental exams are important for protecting your oral health. To protect your teeth and gums, dental exams are an essential component to getting early treatment before concerns become more of a problem.
After your dental exam, a dental hygienist will professionally clean your teeth. A professional cleaning is required to rid your teeth of any hard-to-remove plaque and calculus (calcified plaque, also known as tartar) that can't be cleaned at home.
Both dental exams and dental cleanings are an important part of maintaining your overall health. Book an appointment today to make sure your smile is getting the care it deserves!
How Often Do I Need to See a Dentist?
The goal of a dental exam is to catch dental issues early, which is why Alberta Health and the Canadian Dental Association recommend seeing your dentist at least twice a year. Depending on your needs, your dentist may suggest that you visit more or less often. How often you need to see your dentist depends on a several factors, such as:
If you have a history of oral disease
How well you take care of your teeth & gums
If the tartar in your mouth builds up quickly
The best way to know how often you should get a dental exam and cleaning is by speaking to your dentist about your professional care routine. If you have any questions regarding how often you should see your dentist, please give us a call!
What is a New Patient Dental Exam?
If you're visiting a new dentist for the first time, or it's been a few years since your last exam, your dentist will perform a new patient dental exam.
A new patient examination is very similar to a regular dental exam but includes a few additional steps so your dentist can get to know you, assess your oral health, and find out how to best serve you based on your needs.
During a typical new patient dental exam, your dentist will assess the following:
Your personal smile goals & any concerns you may have
The health and condition of each individual tooth
Your gum and bone health
The condition of any existing dental work
Your jaw joint & your bite
Your overall health
Additionally, your dentist will take a full set of dental X-rays so that they can track the health of your teeth over time, and check for any signs of decay that may not be visible during a regular exam.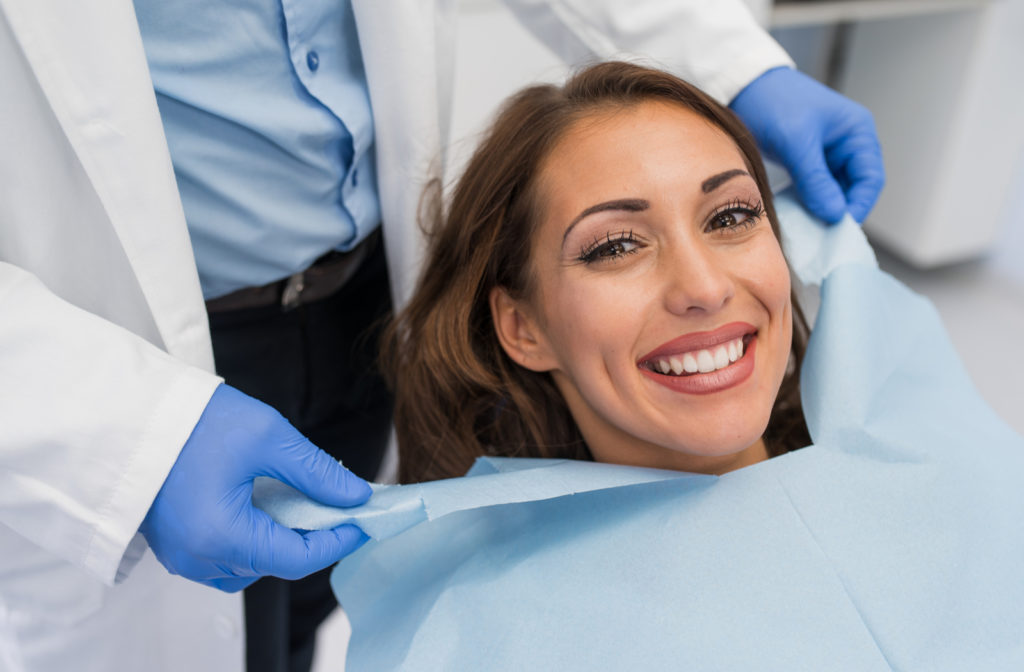 How Can I Take Care of My Teeth In Between Visits?
To keep your mouth healthy in between your dental visits, it's important to take good care of your teeth and gums. During your dental exam, your dentist and dental hygienist can give you oral hygiene tips so you can properly care for your teeth and gums on a regular basis at home.
You can maintain a proper oral hygiene routine at home by:
Brushing your teeth twice a day for at least two minutes each time
Using a toothpaste that has fluoride to help prevent tooth decay & cavities
Flossing daily
Replacing your toothbrush every three months, or sooner if it becomes frayed
Eating a healthy diet & limiting sugary foods
Visit Sunshine Dental for All Your Dental Care Needs
At Sunshine Dental, our patients are like our family, and we can't wait to welcome you! We offer a variety of services so you and your loved one's needs are always taken care of.
Whether it's time for your next exam, or you're interested in visiting our practice for the first time, our team is here to take care of you! Book an appointment or call us today to experience how we can help keep your smile bright and healthy!