Over time, your teeth can wear down or get damaged due to a variety of reasons, including tooth decay, external damage/injuries, and general use. Dental crowns can be a solution to these types of dental issues. Dental crowns are caps that are fixed onto existing teeth to restore their size and shape. You may also require a crown if you have had a root canal or need a large filling in a tooth. If you have damaged or worn-out teeth, you may want to consider booking an appointment to discuss with your dentist if dental crowns are the right treatment for for you to continue maintaining a healthy smile.
What is a Dental Crown?
Dental crowns are caps that are fixed over the top of a worn-out or damaged tooth to restore its size, shape, appearance, function, and strength. These caps are shaped exactly like a tooth to replicate the same functionality as natural teeth.
Teeth can get worn out due to a variety of reasons, including tooth decay, external damage/injuries, and general use. You may also require it if you have had a root canal or need a large filling in a tooth.
What is the Procedure for Receiving Dental Crowns?
Your dentist starts by giving you a local anesthetic.
Next, your dentist will re-shape the tooth that needs to be restored so there is room to fit the crown.
An impression of the re-shaped tooth and nearby teeth are taken. This impression is used to make the custom crown alongside the use of restorative material (material used for fillings). This ensures that the final crown will be the right shape.
Until the final crown is ready, your dentist will place a temporary crown over the tooth that needs to be restored. The temporary crown is made from an impression of your tooth before it was filed down. It protects your tooth until the final crown is ready and may not have the same shape and colour as a final crown.
On your next visit, your dentist will take off the temporary crown and put on the final one. Your dentist will check to make sure the crown is the right fit, shape, colour, and bite. If it is, your dentist fixes the crown into place.
These are general steps most dentists follow in making a crown, but your tooth may need special care. You may need orthodontic treatment, gum treatment, or root canal treatment, which will increase the number of visits to your dentist's office.
Who Can Perform the Procedure?
Dental crowns can be fitted and applied by a dentist, but you may also be referred to a prosthodontist. A prosthodontist is a specialty dentist that deals with restoring and replacing natural teeth and tissues with artificial substitutes.
What Issues Can Develop with a Dental Crown?
Discomfort or Sensitivity
A newly crowned tooth may be sensitive immediately after the procedure as the anesthesia begins to wear off. You may experience some heat and cold sensitivity that may last a few days.
Chipped Crown
Crowns may chip overtime, just like natural teeth. Small chips can be repaired, just like on natural teeth, and the crown can remain in your mouth. If the chip is large or there are many chips, the crown may need to be replaced.
Loose Crown
The cement that fixes the crown to your tooth can sometimes wash out from under the crown. Not only does this allow the crown to become loose, but it also allows bacteria to leak in and cause decay to the tooth that remains. It is important to practice good oral hygiene and home care to maintain your dentition.
Crown Falls Off
A dental crown can completely fall off and remain perfectly intact. Sometimes, the crown can be refitted onto your tooth, but in other cases, you may need to get a complete replacement.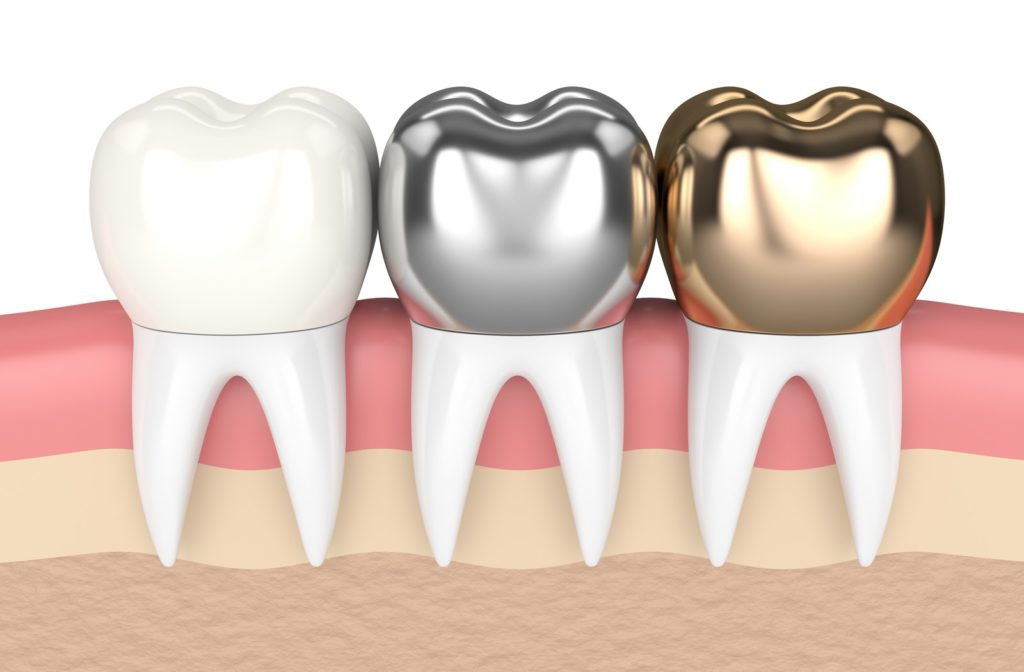 Types of Dental Crowns
There are many different and newer materials available to make crowns.
Metal Crowns
These crowns can be made of various materials, including gold, palladium, nickel, and chromium. They generally last a long time, won't chip or break, and tend not to wear down your opposing natural teeth. Usually, these crowns do not look natural, and the colour of the metal contrasts with the colour of your teeth.
Composite Crowns
These crowns will look natural on your teeth. They won't chip as easily as porcelain crowns, but they tend to wear more quickly from chewing. Tooth brushing tends to remove the highly polished surface of composite crowns, causing them to stain more easily.
Porcelain & Ceramic Crowns
These are the most natural-looking crowns. They may be more brittle than metal or composite crowns and may chip more easily. However, with advances in material science, many porcelain crowns are now very strong, and resistant to chipping.
Porcelain-Fused-to-Metal Crowns
These crowns are a "hybrid" type of crown, as they contain both porcelain and metal, and may be recommended by your dentist in certain situations. Depending on their design, the metal may show through at the gum-line if your gums are thin or shrink.
All-Resin Crowns
Dental crowns made out of resin are generally less expensive than other crown types. However, compared to other crowns made of metal, they are more brittle and fragile.
Temporary Crowns
These crowns are placed on your teeth while you are waiting for the final crown to be made. They are not a permanent replacement for an actual crown and are made to be easily removable so your dentist can switch it with a permanent crown when the time comes
Onlays & 3/4 Crowns
These are crowns that do not fit over the entire tooth, but cover only a portion of the tooth. They are used in certain situations where re-shaping the entire tooth may not be necessary.