Why is Dental Care Important?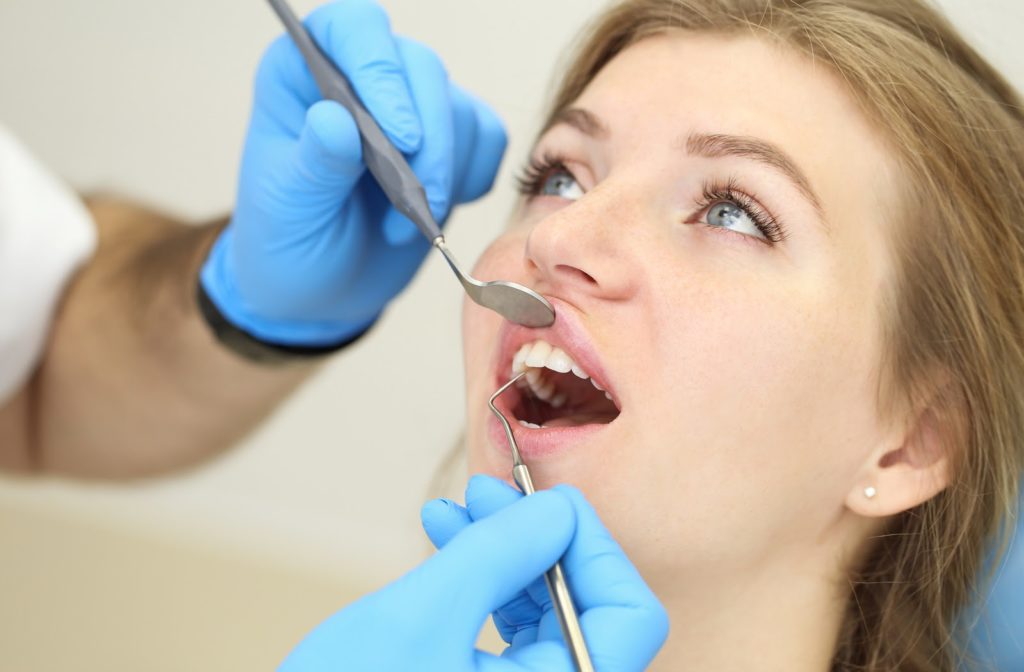 Keeping your mouth clean is just as important as a good diet and exercise when it comes to maintaining a healthy body. Poor oral health and hygiene habits can significantly affect your quality of life and influence how you interact with others.
If you don't care for your mouth and teeth, you can develop oral pain, cavities, and infections that can make it difficult to speak and eat. Bad breath can also occur without proper oral hygiene, which can contribute to poor physical, mental, and social well being.
If left for too long, bacteria can cause oral diseases to develop. Gum disease, like gingivitis and advanced cavities that turn into abscessed teeth, can cause severe pain and damage to the tissues in the mouth.
The Canadian Dental Association recommends seeing your dentist regularly to detect problems before they worsen, and ensure your oral hygiene habits are up to par to maintain good oral health.
What Does a Professional Dental Cleaning Entail?
The Exam
Your professional teeth cleaning will likely be performed by a dental hygienist, licensed and trained in oral hygiene services, as well as providing valuable information on preventing and managing oral disease. The exam will involve using a small mirror to examine your teeth and gums and check for any potential concerns.
Plaque & Tartar Removal
If they don't detect any signs of oral disease that may call for your dentist to intervene, your hygienist will use a scaler to get rid of any plaque or tartar around your gum line and in between your teeth.
Once your teeth are tartar-free, your hygienist will use a gritty toothpaste and powered brush or cup to polish your teeth. The brush will help clean away any remnants of plaque or tartar left behind by the scaler, and give you that nice, smooth clean surface.
Flossing & Rinsing
Your hygienist will then floss your teeth to remove any leftover plaque or toothpaste and locate potential trouble spots that may require attention.
Fluoride Treatment
After rinsing out your mouth thoroughly, you'll be given some choices of flavours for a fluoride treatment. This treatment is used to protect your teeth against cavities. Your hygienist will give you a liquid fluoride rinse to swish around your mouth, or it may be a gel or foam that is placed into a mouthpiece that fits over your teeth.
How a Professional Cleaning Different From Home Care?
Dental professionals use specialized tools and equipment to maintain your oral health. Powered brushes, scalers, and fluoride treatments are among a few things used during routine cleanings to ensure your teeth are sparkling clean and protected.
You can find high-quality toothbrushes, floss, and toothpaste at home, but they will not match up to professional products. You may also not be able to remove all the plaque from your teeth with regular brushing and flossing alone. That's why going in for regular cleanings will make sure no plaque and tartar are building up in hard to reach spots.
Your dental care professionals can also spot early signs of oral disease before they may become evident to you. Catching early symptoms will ensure the condition doesn't progress to the point that may require more extensive dental treatment.
How is a Cleaning Different from an Exam?
It's important to remember that a dental exam and cleaning are 2 different procedures. A dental exam is typically performed solely or partly by your dentist and may involve additional steps to assess the health of your mouth, teeth, and jaw. A cleaning will likely only involve your hygienist.
A full dental exam may include things such as:
Visiting your dentist for an exam and cleaning every 6 months will ensure your mouth, teeth, and gums are kept clean and healthy. At Sunshine Dental, we offer fully comprehensive dental exams and cleanings to protect and maintain your oral health.