Dental X-rays are an important tool for maintaining good oral health because they help your dentist identify and diagnose issues early on. Understanding the types of X-rays and how they are used, as well as how often they should be taken, can help you feel more at ease about this common part of dental care. Don't hesitate to ask your dentist any questions you have about dental X-rays—we are here to help!
Why Does My Dentist Need to Take Dental X-rays?
X-rays help identify and treat oral health problems that might otherwise go unnoticed by making it possible to see what's happening beneath the surface of your teeth and gums. They can reveal anything from cavities to bone loss to potential tumours—and many other issues that could otherwise remain hidden during a regular dental examination.
Are Dental X-Rays Safe?
Dental X-rays use very low levels of radiation, which means the exposure for patients is typically minimal. Additionally, dentists may use lead aprons and other protective gear to further minimize exposure for their patients. The benefits of detecting and diagnosing dental problems early can far outweigh the risks of dental X-rays.
How Often Should I Get Dental X-Rays?
Many patients get dental X-rays once a year, but the frequency can vary depending on several factors such as your age and overall oral health. Your dentist will determine how often you need X-rays based on your individual needs. If you have a history of dental problems, you may need X-rays more frequently.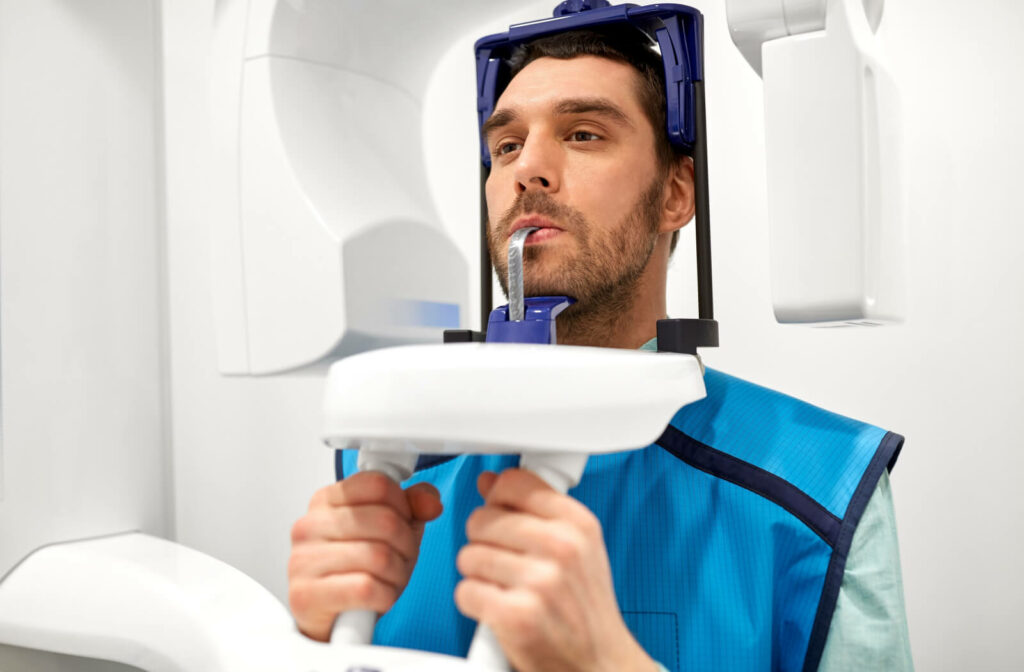 What Types of Dental X-Rays Are There?
There are several types of dental X-rays, including the following:
Bitewing X-rays can show the upper and lower back teeth and how they come together when you bite.
Panoramic X-rays can show a complete view of your upper and lower jaw, including all teeth in both arches.
Periapical X-rays can focus on 2 or 3 teeth at a time and are used to diagnose problems with a specific tooth.
How Do I Prepare for Dental X-Rays?
Generally, no special preparation is needed for dental X-rays. However, you should tell your dentist beforehand if you are pregnant or may be pregnant and if you have a strong gag reflex or anxiety about dental procedures—so they can make accommodations to help you feel more comfortable.
Are Dental X-Rays Safe for Children?
Children can safely undergo dental X-rays. They may need them more frequently than adults because their teeth are still developing, and their mouths change frequently. Similar precautions are taken with children as with adults, but your dentist may use smaller radiation doses and different equipment as necessary.
Routine dental exams and cleanings for children may include recommendations for dental X-rays, as well as treatment for severe dental issues or emergencies.
Are Dental X-rays Safe for Pregnant Women?
Dental x-rays use a small amount of radiation to create an image of your tooth, the amount of radiation used in dental x-rays is very low. Along with the use of lead aprons and x-ray beam collimation, dental x-rays can be safely taken during pregnancy. If you are concerned about getting dental x-rays during pregnancy, talk to your dentist.
Can I Breastfeed After a Dental X-ray?
If you are breastfeeding, you may worry about whether it is safe to continue breastfeeding after having an X-ray. The good news is that the amount of radiation used in an X-ray is minimal, and there is usually no need to interrupt breastfeeding. However, if you are still concerned, you should talk to your dentist about your specific situation.
What If I Don't Know If I Am Pregnant & I Get an X-Ray?
If you are unsure whether you are pregnant, it's important to inform the X-ray technician and the radiologist. In some cases, your dentist may want to postpone the X-ray until pregnancy can be ruled out. However, in other cases, the benefits of the X-ray may be necessary for immediate diagnosis and treatment of your dental concern. If you learn you are pregnant after getting an x-ray and you're concerned about the potential effects, you should speak with your dentist or doctor directly to get advice based on your personal health.