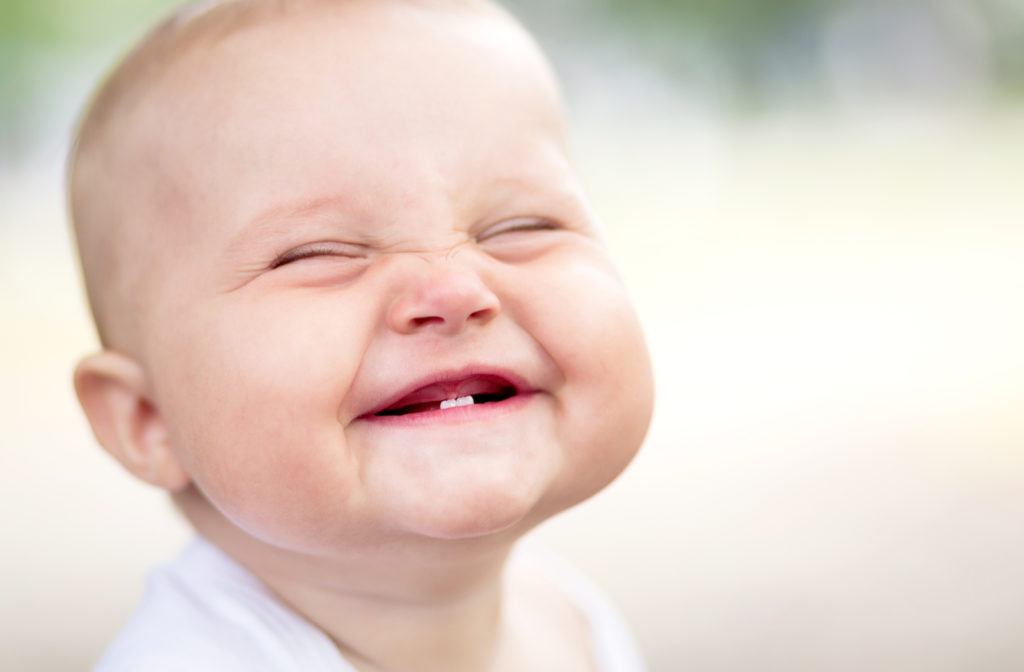 Baby Teeth Aren't Disposable
Baby teeth set the stage for your child's permanent teeth and their oral health. Your baby will rely on their baby teeth for eating and speaking until their adult teeth grow in. Baby teeth also play an essential role in guiding adult teeth into place. Not to mention, uncared for baby teeth can cause pain, infection, or damage to the permanent teeth developing below them. Some baby teeth will stay with your child until they are 12 or 13, so it's important to keep your baby's teeth healthy to ensure proper development and build great oral habits.
How Your Baby's Teeth Develop
Babies are actually born with 20 teeth:
4 second molars
4 first molars
4 canine teeth
4 lateral incisors
4 central incisors
These teeth aren't visible when they are born, but these teeth will start to grow in when your baby is between 4 and 12 months old. Each baby is different, but you can always talk to your dentist if you're worried about how your baby's teeth are growing in.
Your baby's jaw will continue to grow, and adult/permanent teeth will start to replace baby teeth around age 6. It's important to care for these baby teeth as your child may not loose all of them until their early teens. It's also worth noting that baby teeth have thinner enamel than adult teeth, making them more susceptible to cavities.
When to Start Brushing Your Baby's Teeth
It's great to get your baby into a proper oral care routine early. Even before your baby has teeth, you can wipe their gums with a damp washcloth. You can start brushing your baby's teeth as soon as their first tooth appears. Make sure you're using a soft-bristled brush that is child-specific (small enough for your baby's mouth).
You should also use a small amount of child-specific toothpaste. Children's toothpaste will have a less-intense flavour and is safer if swallowed. For children under 3 years old, non-fluoridated toothpaste is usually recommended. Double-check with your dentist, as they might recommend fluoridated toothpaste if your baby has a high risk for tooth decay.
When it comes to flossing, you should start flossing your baby's teeth as soon as they have teeth that touch each other. Children under 3 cannot brush or floss their own teeth, so you will need to take care of their oral hygiene for them. From age 3 to 6, children can start brushing under your supervision. Children can usually start brushing on their own around age 7, and can start flossing on their own around age 8.
When to Start Taking Your Baby to the Dentist
Your baby's first dentist visit should be 6 months after their first tooth grows in or by 12 months old (whichever comes first). After your baby's first appointment, your baby should visit the dentist every 6 months.
Regular dental appointments allow your dentist to closely monitor your baby's teeth for any early signs of oral health issues. It's also a chance for a thorough cleaning.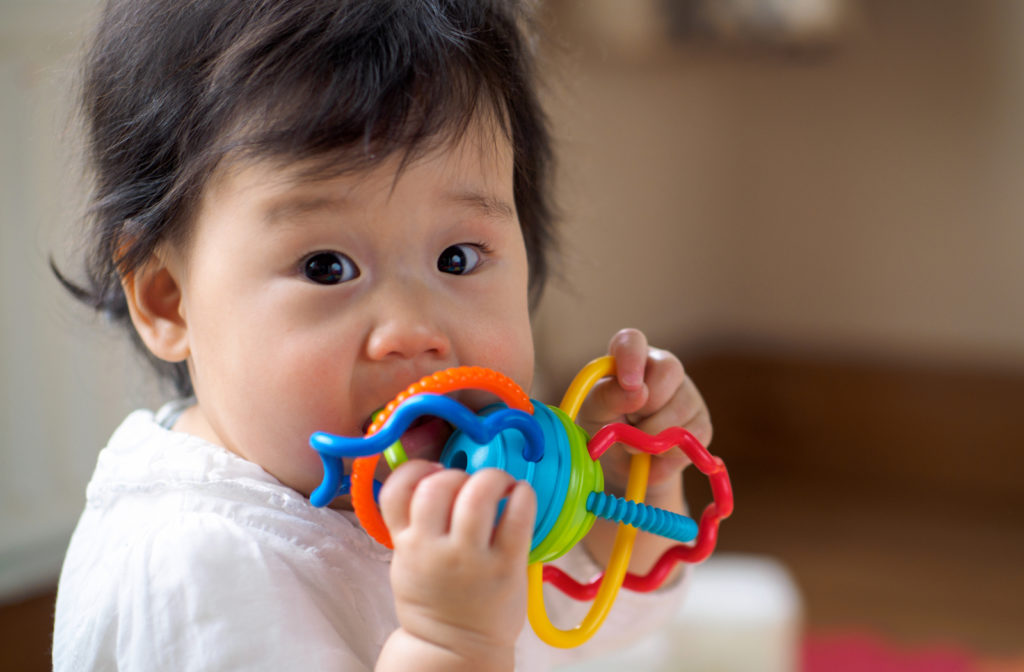 Easy Ways to Promote Good Oral Health
Teething Do's & Don'ts
Many babies teethe without issue, although most parents know when their baby is teething. You may notice your baby is drooling more than normal or that they are experiencing some discomfort. Babies can get warmer than normal when teething, but a fever is not a normal teething symptom. If your baby has a fever, it's likely a sign of something else.
It's natural to want to soothe your baby's teething pains. Teething toys are a great tool, but never give your baby a teething toy with liquid inside. Damp or frozen washcloths are another great option when your baby is teething. You can also give your baby acetaminophen (Tylenol) if they are under 6 months or ibuprofen (Advil/Motrin) if they are over 6 months. Make sure to ask your doctor first if it is ok to give your baby these medications, as well as for the proper dosage required for your baby's age and weight.
Teething techniques to avoid include teething biscuits, amber teething necklaces, and teething tablets with certain ingredients. Teething biscuits can break apart and cause choking, and most contain sugar. Certain teething tablets, particularly some naturopathic teething tablets, contain harmful ingredients. Avoid teething tablets or gels that contain belladonna and benzocaine. Amber teething necklaces are another choking hazard and also pose a strangulation risk.
Avoid Bacteria Transfer
Bacteria found in your mouth can harm your baby. This bacteria can transfer to your baby through saliva, so it's best to take precautions. Don't share any items that have been in your mouth with your baby, like toothbrushes.
Also, avoid feeding your baby with a spoon that has been in your mouth. If your baby's soother is dirty, don't lick it in order to clean it.
Choose Mouth-Healthy Snacks & Drinks
Sugary foods can lead to cavities, especially when babies snack frequently or eat sticky foods. Sugary drinks are another big culprit, especially when sipped or consumed over a long period of time. If your baby is old enough for beverages, sippy cups should only ever be filled with water, not juice or soda.
Even the sugar in milk or formula can cause cavities, so these drinks are best reserved for mealtime. It's also important to avoid giving your baby sugary drinks after brushing their teeth before bed.
Use Soothers Safely
Soothers or pacifiers can be helpful tools to calm your baby, especially during naps. Most children grow out of the habit between 2 and 4 years old, but prolonged or excessive soother use can cause problems with teeth alignment and mouth growth.
Between the ages of 1 and 2, start limiting soother use to naps and bedtime. Keep the soother clean and throw it away if the soother is cracked or torn. Never dip the soother in honey or other sugary substances, as this can cause cavities.
Practice Good Dental Care
In addition to brushing and flossing your baby's teeth, you should also be checking them regularly. Lift your baby's lips and look at their teeth, focusing on signs of cavities like brown, black, or white staining.
Your dentist is another important part of your baby's oral care. Take your baby to visit the dentist every 6 months and visit right away if you suspect any issues with your baby's oral health.