As a new parent, one of the big milestones you might look out for is your baby's first tooth. It serves as a reminder that your little one is growing up quickly—and it can also be a reminder to start thinking about your child's oral health.
When Do Baby Teeth First Appear?
Many babies start developing teeth at around 6 months, but teeth may erupt before or after 6 months for different infants. Typically, the front bottom incisors are the first to come through.
By the time your baby is 12 months old, they may have 4 upper and 4 lower teeth. Complete sets of 20 teeth typically develop by age 3. If you notice your baby's teeth are taking longer to develop, it may be helpful to speak to your dentist.
How Do You Care for Your Baby's Teeth?
You can start brushing your baby's teeth as soon as they emerge. Use a soft toothbrush to prevent food and other substances from lingering in their mouth without using toothpaste initially.
As your baby reaches 18 months old, you can introduce a non-fluoride toothpaste. Fluoride toothpaste is not recommended for children under 2 years old because they may end up swallowing some of it.
Tips for Teething
The teething process can be challenging for babies and parents. Some options for relieving teething discomfort include:
Cold Therapy: An old (and often effective) way to soothe teething pain is through cold therapy. You can provide cold therapy in a number of ways, depending on what your baby likes. One method is to give your baby something cold to chew on, such as a chilled teething ring, a cold washcloth, or even a frozen banana (just make sure it's not a potential choking hazard).
Gum Massages: Another way to relieve teething pain is by massaging your baby's gums with a clean finger or a soft-bristled toothbrush. Make sure your hands are clean before you do this. You can also try using a teething rub or gel, which contains a local anesthetic to numb the gums. Teething rubs are available at many drugstores.
Distraction Techniques: Sometimes, the best way to soothe a teething baby is to distract them with something. You can try giving them a new toy or going for a walk outside. Singing or playing music can also work wonders for distracting your baby from their discomfort.
Soft Foods: When your baby is teething, they may not want to eat as much as usual. However, it's important they still get the nutrients they need. Try offering soft foods, such as mashed bananas or avocado, which can be easier to eat and less likely to irritate their sore gums.
Dental Checkups: If your baby seems to be in a lot of pain or their teething symptoms are severe, it's a good idea to schedule a visit with your dentist. Through a dental exam, we may be able to recommend additional treatment options, such as pain medications, if necessary.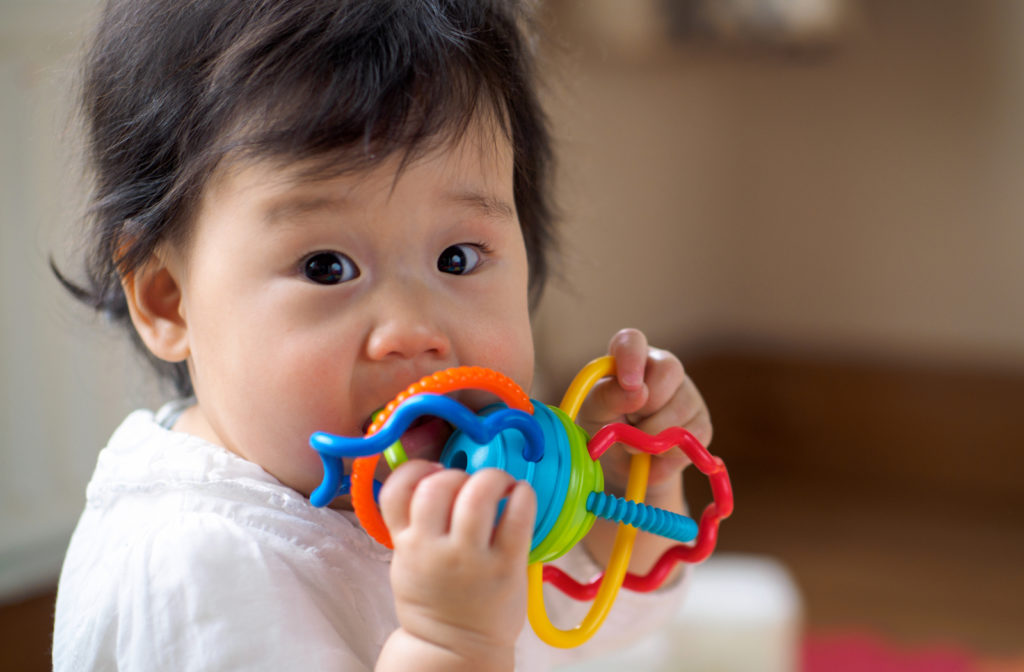 Baby's First Dental Checkup
The Canadian Dental Association (CDA) recommends parents bring their child for their first dental visit 6 months after their first tooth emerges or by 1 year old—whichever comes first.
Taking your child to see a dentist before their first birthday helps establish a baseline for their oral health. At this appointment, we can examine your baby's mouth, assess any risks, and help you learn how to promote good oral hygiene for your child.
Creating Dental Health Routines
Regular dental appointments work towards preventing problems from occurring in the first place. In addition to regularly scheduled dental appointments, parents can encourage good oral hygiene practices by brushing and flossing their child's teeth and offering healthy snacks such as fruits and vegetables.
As your child grows older, their dental needs can change as well. We can advise you on how often your child should visit for checkups and cleanings.
When Do Children Start Losing Teeth?
Kids typically begin losing teeth around age 6, starting with their front teeth. The final "baby teeth" are often replaced by adult teeth around age 12.
Even though baby teeth eventually fall out, they are still very important for chewing and speaking. These teeth also save space for adult teeth to come in.
Taking Your Baby's Oral Health Seriously
Your baby's oral health should be taken as seriously as the rest of their health. You can start taking care of their teeth as soon as they appear. Providing the correct oral care and attention can prevent tooth decay and other dental problems.
Your child's dentist is your ally in providing care for your baby's teeth. We can provide you with helpful advice and guidance every step of the way.