Your tongue is not just used for tasting food or speaking. It can also serve as an important indicator of your overall health.
The appearance of your tongue can give you an insight into the state of your digestive system as well as indicate potential underlying issues. In this blog post, we will explore the different signs of a healthy tongue and what to be aware of when you look at your own tongue.
Does My Tongue Look Healthy?
A healthy tongue should be pink and smooth. It should not be coated with any white or yellow patches. These patches can be an indication of oral thrush or a buildup of bacteria or yeast in the mouth. Additionally, a nutritious diet plays an essential role in maintaining a healthy tongue. Foods rich in vitamin B12, iron, and folic acid can help with the production of red blood cells in the body, which in turn can help prevent discoloration on the tongue. If you notice any changes to your tongue, such as discoloration, it is important to visit your dentist.
Hydration Is Key to a Healthy Tongue
Another key aspect of a healthy tongue is proper hydration. When you are dehydrated, your tongue can become dry, rough, and develop a whitish coating. Consuming enough water throughout the day can help maintain moisture and saliva production in your mouth. This can also help prevent bad breath and tooth decay.
What Texture Should My Tongue Be?
The texture of your tongue can reveal important health information. Ideally, the surface of your tongue should be smooth, with tiny little bumps, called papillae. However, if your tongue feels bumpy, swollen, or has a cracked appearance, it can be an indication of inflammation, vitamin or mineral deficiencies, or other oral health conditions. It's important to note that some people naturally have a bumpy, uneven tongue. However, if this is something you have noticed as a change, you can consult a dental healthcare professional for further advice.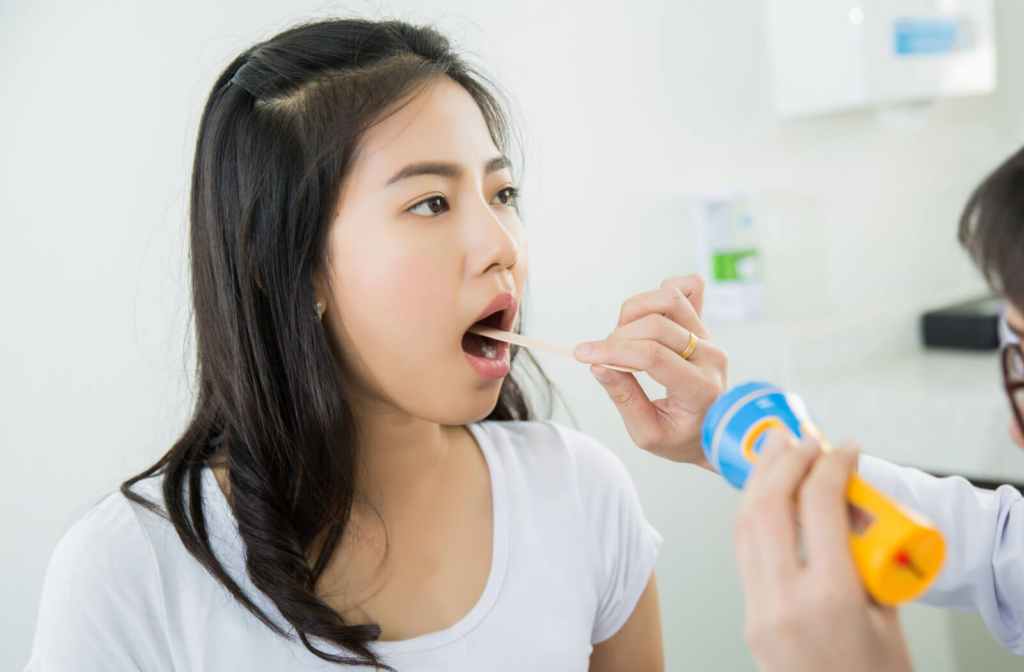 Why Do I Have Bad Breath?
Bad breath, or halitosis, can be an indication of an unhealthy tongue. Poor oral hygiene, a buildup of plaque or food on the tongue and teeth, and certain medical conditions can cause halitosis. One of the main reasons for bad breath is excessive bacteria living on our tongue.
How Can I Keep My Tongue Clean?
Taking care of your oral health goes beyond just brushing your teeth and flossing regularly. An often-overlooked part of oral care is tongue scraping. Tongue scraping can help improve your oral hygiene and overall health.
Tongue Scraping Can Improve Bad Breath
While we brush our teeth daily to eliminate bacteria, we often forget to clean our tongue. Using a tongue scraper can help remove bacteria, dead skin cells, and food particles that are responsible for bad breath.
Here are a few ways tongue scraping can help improve your health:
It can help improve overall oral hygiene—Our tongue provides an ideal environment for bacterial growth. This growth can cause problems beyond bad breath, such as dental issues and gum disease. Using a tongue scraper can help ensure your oral hygiene routine is effective, as it can remove unwanted bacteria to support oral health.
It can restore your taste buds—You may not realize it, but an unclean tongue can alter your sense of taste. Tongue scraping can help remove the layer of debris on your tongue, unclogging your taste buds and restoring your sense of taste.
Tongue scraping can improve overall health—Bacteria that live on your tongue can affect your overall health. This bacteria can spread to other parts of your body, causing infections and inflammation. Regular tongue scraping can help eliminate harmful bacteria and protect your health.
Tongue scraping is something you can do on your own, and incorporating it into your daily oral care routine can do wonders for your overall health.