Vaping has become a popular alternative to smoking traditional cigarettes in recent years. Many people assume it's a safer option for their health, but what about oral health? The reality is that vaping can still have negative effects on your teeth and overall oral health.
Some vape liquids contain high levels of nicotine, which can cause your teeth to yellow or stain over time. In addition, the heat from inhaling vapour can also cause dry mouth, which can lead to tooth decay and gum disease.
Whether or not you smoke cigarettes or vape, it is important to visit your dentist regularly for routine oral health checkups and dental cleanings. Your dentist may also help improve the appearance of stained teeth with cosmetic dental treatments like teeth whitening.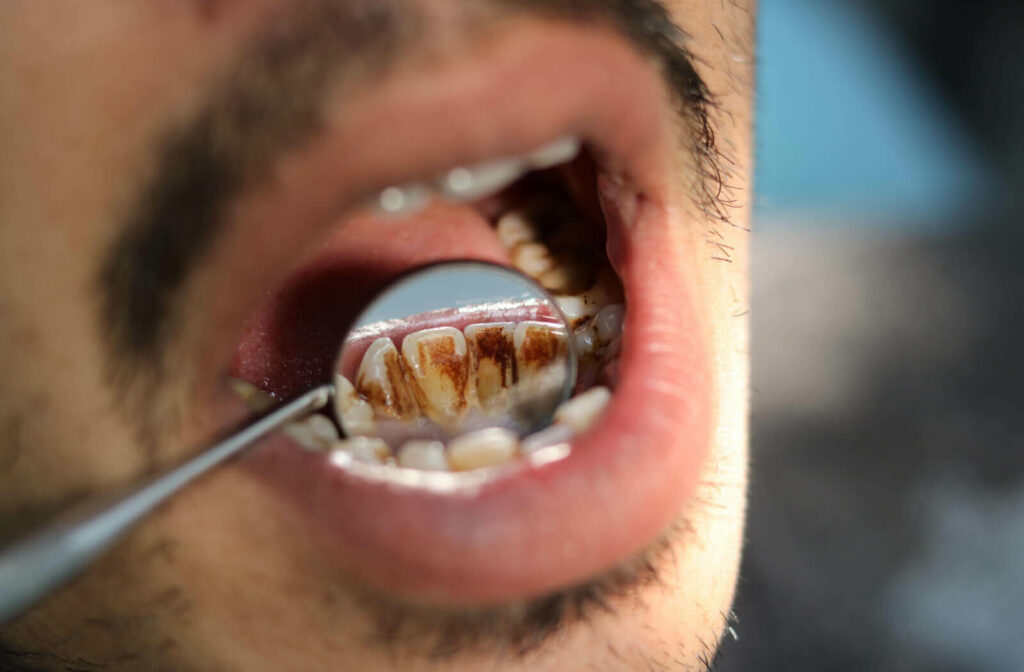 How Can Vaping Stain Teeth?
The main culprit of tooth stains caused by vaping is nicotine, a tan-coloured substance that leaves unsightly yellow stains on teeth when it comes in contact with enamel. Nicotine can also reduce the flow of saliva in the mouth, which can contribute to the development of dental plaque and cavities.
Flavourings added to e-cigarettes can also be detrimental to dental health. Some flavourings contain chemical substances that can erode tooth enamel and cause yellowing. Electronic cigarette liquids with candy and fruit flavours are the most concerning, as they can contain organic acids that erode tooth enamel. The enamel on your teeth is your first layer of defence, and your teeth may become sensitive and prone to decay if your enamel is damaged.
How Can You Prevent Tooth Stains Caused by Vaping?
Reduce Your Vaping
Reducing your vaping is one of the most effective ways to prevent tooth discolouration. The more you vape, the more nicotine and chemicals accumulate on your teeth, leading to deep stains that are harder to remove.
It's best to break the habit of vaping altogether, but if that's not possible, try limiting how much you vape. Also, consider using a lower nicotine content vape to reduce your nicotine consumption.
Practice Routine Oral Hygiene
Brushing your teeth twice a day and flossing daily are 2 of the most fundamental habits for maintaining healthy teeth and gums. They are also great for preventing tooth stains.
Brushing twice a day can help remove surface stains that accumulate on your teeth. Make sure you brush for 2 minutes, covering all surfaces of your teeth.
Flossing daily can help remove plaque and food debris from between your teeth and help prevent gum disease. Plaque and debris accumulation can lead to the buildup of stains. Make sure you floss every day for optimal oral health.
Stay Hydrated
Drinking water after vaping can help remove the residue left on your teeth by flushing out the compounds that cause stains, such as nicotine and tar. It can also promote saliva production, which can help neutralize the acids that cause tooth decay and discolouration.
Professional Teeth Whitening
A professional teeth whitening treatment can be a safe and effective way to brighten your smile. Your dentist can perform the procedure using a whitening gel and laser light that work together to remove deep stains.There are also take-home teeth whitening options that your dentist may recommend that gradually whiten your teeth over a few weeks time, and thus reduce any whitening associated teeth sensitivity.
Health Benefits of Quitting Vaping
Quitting vaping is an excellent decision for your teeth and overall oral health. It can decrease your exposure to nicotine and lower your risk of related health problems like cancer. So, if you vape, consider the benefits of giving up vaping for good. Your teeth and your overall health will thank you.
Improved Breath
One of the most immediate changes you may notice when you quit vaping is improved breath. Vaping can cause chronic bad breath and a persistent bad taste in your mouth. This is due to the ingredients in the e-liquid, such as nicotine, artificial flavours, and sweeteners.
These substances can dry out your mouth, promoting the growth of bacteria that cause bad breath. Quitting vaping can greatly reduce this issue and promote fresh-smelling breath.
Reduced Risk of Dry Mouth & Tooth Decay
Dry mouth is a common side effect of vaping that can contribute to dental problems. It occurs when the vapour from e-cigarettes dries out the saliva in your mouth, making your oral health more susceptible to bacterial growth and the development of tooth decay.
Saliva is essential for washing away food particles and neutralizing acid that causes tooth decay. Quitting vaping can reduce the frequency and severity of dry mouth, which can lower your risk of developing dental problems like decay and gum disease.
Enhanced Taste
Vaping can impact your sense of taste and smell over time. The chemicals in e-juice can dull your taste buds, making it difficult to enjoy flavours in the foods and drinks you love. Quitting vaping can help restore your sense of taste and smell.
Reduced Nicotine Intake
Many vape liquids contain nicotine. Long-term nicotine use can have harmful effects on your health, including increased blood pressure, heart disease, and lung disease. Quitting vaping can help reduce your exposure to nicotine, ultimately improving your overall health.
Lowered Risk of Oral Cancer
Studies have shown vaping can increase your risk of oral cancer, especially for those who vape for an extended period.
Vaping involves inhaling chemicals and toxins that can lead to cell damage in your mouth and lungs. Quitting vaping can help decrease your risk of oral cancer because it eliminates exposure to these harmful chemicals.