What Is Fluoride?
Fluoride is a naturally occurring mineral found in groundwater. It helps protect enamel and prevent tooth decay. But, there often isn't enough fluoride in groundwater to support our oral health.
What Are the Benefits of Fluoride?
There are many benefits of fluoride, including improving your oral health. Canada has been using fluoride to help prevent tooth decay since the 1940s.
More than 50 years of in-depth research have shown that fluoride effectively prevents cavities. The Canadian Dental Association recommends patients discuss fluoride treatments with their dentist to further protect their teeth.
Can Fluoride Make My Teeth Whiter?
If you're interested in whitening your teeth, many teeth-whitening solutions are available. Before you attempt any whitening treatment, it's recommended that you speak with your dentist. Strong enamel is key in achieving safe and comfortable whitening.
Fluoride strengthens enamel, so a fluoride treatment may be your first step to achieving whiter teeth. Although fluoride doesn't whiten teeth on its own, it can help strengthen your enamel so you can comfortably and safely achieve a brighter, whiter smile with a teeth-whitening treatment.
Children's Dental Health
A healthy diet and good oral hygiene can promote children's oral health while their teeth and gums develop.
Children require healthy teeth and gums before their permanent or "adult" teeth come in. Taking care of their first teeth (commonly referred to as "baby teeth") helps instill strong oral health habits and makes way for adult teeth when they come in. Because their permanent adult teeth are larger, the first set of teeth reserves space for the incoming teeth.
Fluoride treatments can help protect your little one's teeth, defending against cavities and strengthening their enamel.
The small amount of fluoride added in our drinking water by many municipalities helps incorporate this mineral with-in the developing baby and adult teeth, and help make them more resistant to tooth decay.
How Much Fluoride Should My Child Have?
The Canadian Dental Association recommends children 3 years of age and younger should only use fluoridated toothpaste as determined by their risk of tooth decay, which can be determined with the help of their dentist. This is to prevent younger children from swallowing the fluoridated toothpaste and unnecessarily ingesting too much fluoride.
Between ages 3–6, a small amount of fluoride toothpaste (a dab about the size of a pea) should be used, and an adult can help them while they are brushing their teeth.
How Can I Encourage My Kids to Brush Their Teeth?
Kids often enjoy learning when it's fun. When teaching your child good oral hygiene—like brushing their teeth—you can show them how much you enjoy it. You can also incorporate fun activities to help, like using a timer or a song.
There are plenty of fun toothbrushes available, and if you let your child pick out their own toothbrush, they can look forward to using it each time they brush their teeth!
Do Adults Need Fluoride?
Fluoride is a beneficial way to protect your teeth, no matter your age. Your dentist can assess your oral health and your risk of developing tooth decay and recommend fluoride treatments based on your needs.
Can I Include a Fluoride Treatment at My Professional Teeth Cleaning Appointment?
Yes, you can include a fluoride treatment at your dental cleaning. Fluoride treatments come in many forms, like a flavoured, mouth rinses, topical gels and foams.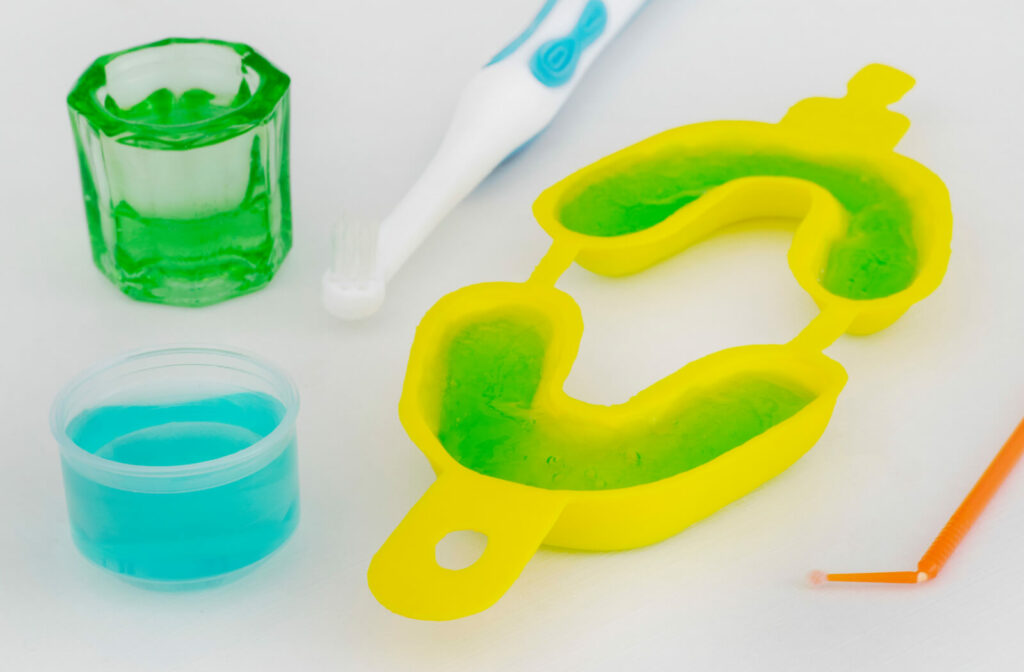 Your dentist has a wealth of information about maintaining good oral health. While visiting, it's a great time to talk to your dentist about the types of toothpaste, mouth rinses, or supplements you are currently using to benefit your oral health. What Fluoride Treatments Can I Do at Home?
You can check with your local city to find out if fluoride is added to your drinking water.
Beyond drinking water, using fluoridated toothpaste and an alcohol-free fluoridated mouth rinse as pary of your daily routine can help reduce tooth decay. Talk to your dentist about adding fluoride safely to your daily routine.
Talk to Your Dentist About Fluoride
Your dentist can recommend fluoride treatments tailored to your needs to help preserve the health of your teeth. Feel free to reach out if you have any questions.